Buy God of War: Ascension At Best Buy And Get Mjlnir DLC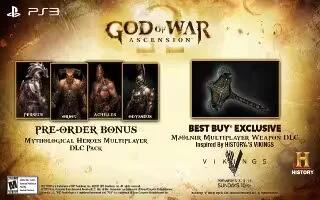 Those who pre order God of War: Ascension through Best Buy will be able to wield the mythical hammer, Mjlnir, during multiplayer matches. On top of the hammer, Best Buy pre-orders also net the Mythological Heroes multiplayer DLC pack, a series of characters available for use in multiplayer.
In a special limited time offer, if you purchase God of War: Ascension at Best Buy, you can bring Vikings into the realm of Kratos with an exclusive multiplayer weapon inspired by the series. While supplies last, every game copy will come with a voucher for the DLC weapon Mjlnir, or Hammer of Thor, for use in Ascensions multiplayer mode. The voucher code will also unlock the Mythological Heroes Multiplayer Pack, which includes four unique armor sets for four of ancient Greeces greatest mythological heroes: Achilles, Perseus, Orion and Odysseus.
Last month Sony announced a 500GB special edition console bundle with God of War: Ascension, available for $349 on March 12 alongside the launch of Ascension. The bundle also includes every other God of War game ever (minus the mobile game) and a 30-day subscription to Sony's premium PlayStation Plus service.