Bugbear Next Car Game Is Wreckfest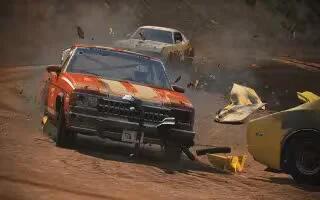 Bugbear officially announced the Next Car Game, the name is Wreckfest. Wreckfest Early Access build can now partake in 18 player matches, with Bugbear now "pushing the limits" to eventually allow for 24 cars to share the same event.
Bugbear's update also adds Deathmatch and Team Deathmatch game modes, a two-in-one oval and figure-eight track, a European coupe, changes to Wreckfest's physics engine and more.
Console ports were once part of Next Car Game's canceled Kickstarter campaign, but even with the project finding life on Early Access, Lead Game Designer Janne Suur-Nakki told Polygon earlier this year that the team is "hoping that we will have a chance to port the game on PS4, Xbox One or both somewhere along the way."
Click here to see our gallery on Wrefest.