Begin Using A Mac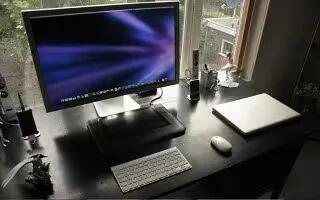 Are you new to Mac? Mac can be mildly confusing at times. This guide shows some of the basic uses and features of a Mac, as well as how to transfer documents that require PC use, set up the Mac and use applications.
Terminology
The names of objects you see in the screen of a Mac are quite different from those in Windows.
Menu Bar. This is at the very top of the screen. On the top left is the Apple icon. Just to the right of the Apple icon is the name of the current active application. Other items found in the Menu Bar are File, Edit, View, Window, Help, etc.
Title Bar. This is at the very top of a window and contains the name of the current window. You will not see this item if you are using Google Chrome.
Toolbar. This is just below the Title Bar and contains icons. You will not see this item if you are using Google Chrome. Modify the content of the Toolbar by right-clicking anywhere in the Toolbar and select Customize Toolbar.
Status Bar. This is at or next to the bottom of a window and is only visible when you select to display it in the View option or the application Preferences. Not available in all applications.
Basics
Start Up Your Computer. After the circle under the Apple Logo rotates for a few seconds, the computer will take you on a quick video, and then will ask for you to enter your area, some personal information, and a user name + password. Enter the info, and proceed to log in.
Right-click menu on a Mac. Many PC users are used to right-clicking the mouse in order to bring up a list of helpful options; on a Mac there are ways to get similar results. The easiest way would be to control-click an item. Control-click means holding down Ctrl while clicking the item. This will bring up a shortcut menu. Alternatively, you can configure the mouse or trackpad to use the right side of the mouse or trackpad as the secondary button (aka right-click).
Use Finder to find various documents, pictures, and other files. Finder is, for Mac users, essentially what Windows Explorer is for PC users.
Force quit an unresponsive application. Press Command-Option-Escape when an application becomes unresponsive. This works in the same way the Ctrl-Alt-Delete works for PC users. Another way to force-quit an application is to Control-click the item on the Dock and selecting Force-quit from the menu.
Closing a Window. Click the red button in the upper left hand corner of the window to close the window of an application. This does not exit the application. The hotkey is Command-W.
Minimize a Window. To minimize a window (put it in the Dock to the right of the race track) click the yellow button next to it. Alternatively, double-click on the Title Bar.
Maximize a Window. To maximize a window, click the green button on the right.
Exit an application. Click on the application name in the Title Bar, then click on Quit <application name> at the bottom of the menu. The hotkey is Command-Q.
Press the Command key on the Mac for shorcut keys (hotkeys) instead of Ctrl on Windows. For example Command + C to copy, and Command + V to paste.
Using Applications
Set Up Your Mail. For mail, simply start by launching the app. The app will take you to a location to enter your MobileMe account name, or enter a POP account. It will ask for an ingoing and outgoing server name, which can be found online by your provider. Continue and set up a password and port, and the mail will now work! Email providers, like gmail, Yahoo, Mobile Me and AOL, don't need you to manually type in the ingoing and outgoing servers. Your Mac knows the servers already.
Set Up iChat. For all your instant messaging needs, iChat is there and very efficient. When you launch the app, it will first ask for any account info. iChat works with Google, yahoo, AIM, and other messaging providers, and you just need to enter the specific account info.
Set up spaces Spaces is a very useful app that allows for organization of apps and tabs. Spaces works to have a separate screen for apps that you chose, and you can switch between them so that there is no confusion or multiple tabs open.
Spotlight. Possibly, one of the most useful features in a Mac. just press the apple key + space bar to use it, or click on the magnifying glass in the upper right corner of the screen, and you can search for anything on the computer within seconds, unlike the search feature on a PC which can take minutes.
Set Up Track Pad + Mouse. One of the unique features on a Mac, are the track pad features on laptops. To set it up, launch system preferences and go to track pad and mouse section. there, you can chose from several options that enable track pad use. You can also set up a mouse here also
Crossover. Are you a gamer? Unfortunately, a Mac does not support many PC games, but there is an easy solution. Crossover games allows any PC game to be played on a Mac. It does cost money, but if you are cheap, you can continue to download it for the 30 day free trial.
iPhoto And iMovie. These apps are very useful for your media needs, and can be used easily. Just upload any photos on a camera to iPhoto, and you can edit and sort them at ease. With iMovie, you can also edit with built in features and an internal microphone/camcorder.
Office And iWork. For documents, spreadsheets, you can either use Apple iWork, OpenOffice.org/NeoOffice or Microsoft Office. They are very similar office suites and provide the basic needs of a word-processor, spreadsheet and presentation software.
Note
It is also possible to use Windows on a Mac using Boot Camp.
If you are experiencing any technical difficulties on your Mac, just make an appointment with the Genius bar at any Apple store to get hands on help.
A good time to buy your Mac would be in the summer, where students can get a free iPod Touch with their Mac.
Mac's are a little harder than PC's so it might take a little while to get use to the Mac.