Andi-One Universal remote runs Android 2.1, does more than changing channels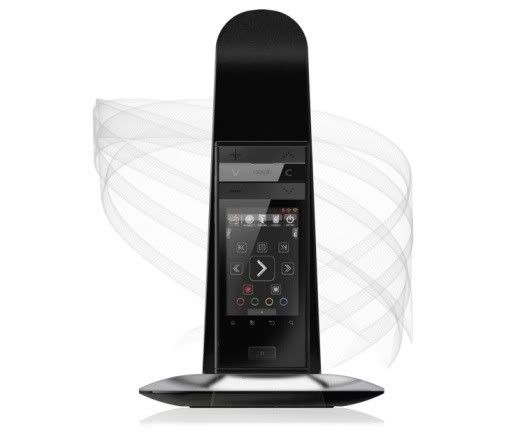 The Andi-One a universal remote boasts compatibility with thousands of devices, unlike the most. It runs on Android 2.1. This 3.5-inch capacitive touchscreen clicker can check email, browse the web, control your HTPCs mouse and keyboard, runs over100,000 Android apps, act as a VoIP phone, and kick movies directly to your TV through HDMI enabled charging cradle. It is not only controlling your entertainment devices, it is giving you the choice between changing the channel and playing Angry Birds- if thats not innovation, we dont know what it is. Its now available for $350
Here is the Press Release
CONSPIN INTRODUCES FIRST OF ITS KIND UNIVERSAL REMOTE CONTROL WITH ANDROID 2.1

New Conspin Andi-One URC is as entertaining to use as the devices it controls
LAS VEGAS, NV, April 11, 2011 (NAB Show Booth C11746) -- Conspin, a driving force in home theater and consumer electronics innovation, today launched the first of its kind Andi-One smart touch URC. Leveraging Android OS 2.1, the Andi-One merges a tablet PC with a universal remote controller to allow users to control up to 50 disparate devices via RF (RF4CE), IR and Wi-Fi. The touch-screen brings unprecedented ease to device management, plus lets the user enjoy Android applications, while the included cradle acts as a battery recharger and 2Wdual-speaker stereo system for the Andi-One and the Apple iPod, iPhone and iPad.
"Consumers are accustomed to a remote control being a basic accessory," said S.K. Lee, CEO for Conspin. "Our multi-function Andi-One redefines the URC concept, transforming the remote control from a small player on the consumer electronics stage to being the main event that is every bit as entertaining as the HDTVs, DVD players, gaming systems, stereos and other digital devices it seamlessly manages."
TOTAL CONTROL, TOTAL CONVENIENCE
There has never been a more adaptable remote control for home theater and electronics enthusiasts than the Andi-One. The operative word is interoperability -- the Andi-One supports more than 10,000 devices from 5,000 different manufacturers with ongoing updates to the device code database via its cradle's optional Wi-Fi Access Point, so you are always on top of your entertainment choices. In addition to touch-screen control of virtually any electronic component imaginable, the Andi-One brings with it liberating conveniences like room grouping of your devices and a learning function that anticipates your needs based on past activities, such as the music you've played or the shows you watched.
SIMPLICITY & STYLE
Incorporating the latest usability enhancements, the Andi-One is amazingly simple to operate and enjoy right out of the box by the whole family, thanks to its 3.5-inch high-resolution (320 x 480, RGB), scratch-proof touch screen. Just glide your finger along the touch-screen surface and Andi-One responds. There are no buttons. Using the My Activity starter screen, you can auto-discover, register and store virtually any component on the Andi-One's 2GB internal memory. Once set-up is complete, use the Andi-One to:
Group devices by room to eliminate complex lists and handle even the most elaborate home theater systems;
Switch between devices, powering them off and on together or individually;
Control TV channel selection, volume and picture functions. The most frequently used keys are available in both physical and virtual form for immediate access;
Enjoy full functionality of DVD players and other media devices;
Download from your service provider Java-based EPGs to search for movies and programs;
Send emails and browse the Internet;
Optional features allow for the Andi-One to work as a VoIP phone with built-in echo canceller and noise suppressor;
Recharge the 1500mA Li-ion battery on the cradle or a micro USB;
Place the Andi-One on its cradle to show time and weather. For news and stock quotes, users can search with the ANDI-ONE when connected to a Wi-FI network;
The Andi-One will serve as a wireless mouse and virtual keyboard to navigate Netflix and other video streaming services viewed on a PC, Set Top Box or smart TV. They're also ideal for web browsing and content search;
Download and enjoy more than 100,000 available Android applications.
Stylish, smart and adaptable, the Conspin Andi-One enhances the home and business entertainment experience by offering the key functions that consumers want most in a universal remote controller, including good looks. Ergonomic in form with gentle curves, the soft touch finishing of the Andi-One and its accompanying cradle issue an invitation to approach the glossy full touch window. It sits well in the hand and is a pleasure to touch.
RECHARGING CRADLE
The Andi-One cradle does more than recharge batteries. You can choose to connect an external music player, such as an iPad, iPod or iPhone, directly to it. With its dual 2W speaker system, the cradle will produce a full spectrum of sound. There is also an HDMI output (1024 x 768p) to bring movies stored on the Andi-One to an HDTV for widescreen viewing.
PRICING AND AVAILABILITY
The Conspin Andi-One URC is immediately available through distribution from Tech Data and D&H Distributing with an MSRP of $349.99. For more information, please visit www.conspin.com.