How To Use QuickRemote - LG G Pad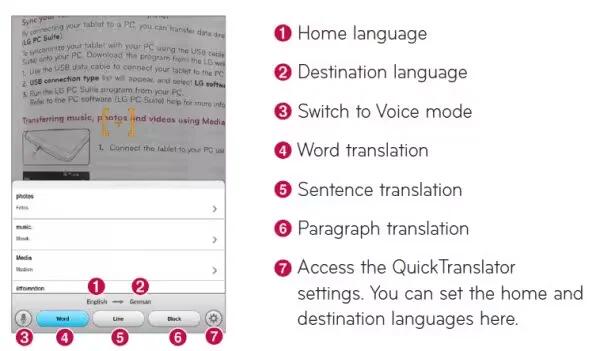 Learn how to use QuickRemote on your LG G Pad. Quick Remote turns your tablet into a Universal Remote for your home TV or cable box.
Note: QuickRemote may not be available for some devices and areas.
To open the QuickRemote application and set up your QuickRemote(s)
From the Home screen, tap the Apps > QuickRemote icon. Or touch and slide the Status Bar downwards and touch Power icon > ADD REMOTE.
Touch Living Room icon to select a room type and touch + Add icon to add the device. Select the type and brand of device, then follow the on-screen instructions to configure the device(s).
Note: The Quick Remote operates the same way as an ordinary infrared (IR) remote control in your region or country. Be careful not to cover the infrared sensor at the top of the tablet when you use the Quick Remote function. This function may not be supported depending on the model, the manufacturer or service company.
Using QuickRemote
Open QuickRemote icon and choose the room where you configured the remote.
Select the remote you want by tapping its type/name on the Quick Remote bar along the left side of the screen.
Tap the buttons on the displayed remote.
Note: When adding the TV remote control, Quick Remote could use the INPUT button to configure appropriate remote control. When configuring the INPUT button, the TV input source could be changed. To reset the TV input source, tap the INPUT button on Quick Remote several times (depending on the number of devices connected to the TV).
QuickRemote options
To access the Quick Remote options menu, tap the Menu Key to select the desired option.
Note: While playing music in the background, pressing any QuickRemote button will mute the sound for a second.