12 Best Education And Learning Apps For iOS (iPhone And iPad)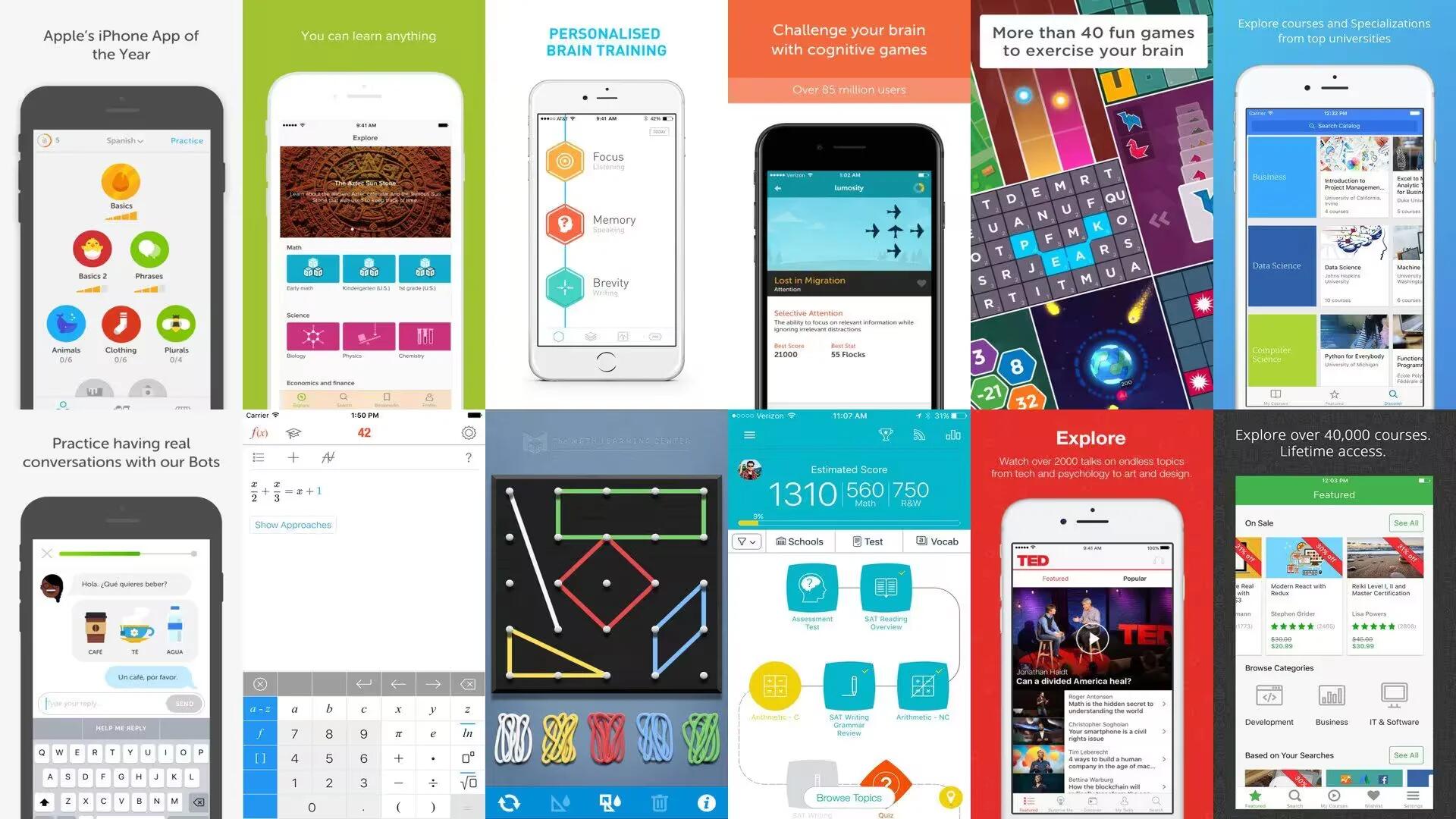 The iPhone and iPad have completely changed the mobile technology in last few years. For any Apple fan, these devices have become an essential part of their lives. Apple's App Store has an app for almost every conceivable task, so why exclude the most important; that of education.
Some educational apps are tailored for high-school students, some for soon-to-be college graduates, and others still, are more apt for those who provide an education or those who still pine for knowledge long after school lets out for summer. In this article, I have compiled a list of 12 Best Education And Learning Apps, which can improve your language, memory, and many skills in different categories. Most of these educational apps are free, though some include in-app purchases to unlock additional lessons.
So without further ado, here is the list.
1. Duolingo
The growing importance of speaking multiple languages in order to communicate with others, be it for business or personal reasons, makes language tools highly desirable. Duolingo allows users to learn a new language (or multiple languages) at their leisure directly from the app. Currently, Duolingo has educational games for learning English, Spanish, French, Italian, German, and Portuguese along with other languages for users to choose from.
While it can be difficult to commit to other types of language learning programs such as Rosetta Stone due to the monotonous methods of teaching, Duolingo makes learning a new language a fun and fulfilling experience by making it a leisure activity as opposed to a dull educational practice. From standard vocabulary to understanding grammar, Duolingo offers a comprehensive understanding of all language aspects and even assesses progress to ensure that users get the most out of the application.
2. Khan Academy
The most comprehensive educational app available for the iPad, Khan Academy covers K-12 subjects that range from math, biology, chemistry, finance, and history among many others. The iPad app includes over 4,200 videos designed for kids just starting their path to learning all the way up to preparing for the SAT.
Khan Academy is a not-for-profit organization that strives to provide free education for everyone. While not as entertaining as some of the other apps on this list, it is the only one that compiles all subjects and all learning levels into a single free app.
3. Elevate
Elevate is a brain training program designed to improve focus, speaking skills, processing speed, memory, math skills, and more. In addition, Each person is provided with his or her own personalized training program that adjusts over time to maximize results.
4. Lumosity
For many iPhone users who are looking to pass time, phones are often the first resource used to play mindless games or scroll through news feeds.Lumosity provides the ability to play games while learning at the same time, creating a pleasant learning experience. While the games seem merely fun and interactive, they are actually stimulating brain function as a means to enhance memory abilities.
The Lumosity games are intuitively designed to help memory growth and stop the all-too -common "Why did I just walk into this room?" thoughts. Beyond helping memory functions, the app can also help with attention and problem-solving skills for the young and old alike. Based on extensive amounts of research, there are various challenging yet intriguing games to benefit users of all ages.
5. Peak
Peak is another personalized self-improvement app. It is specifically designed to help improve your Memory, Focus, Problem Solving, Mental Agility and Language skills with fun, challenging games. With it, you can reach goals and build healthy training habits -- all backed by scientific and educational research.
6. Coursera
Coursera connects students, professionals, and lifelong learners everywhere with free online courses from over 100 top-tier global universities and institutions. It has over 2,000 courses and specializations developed by 140+ of the best colleges and universities in the world. In addition, you can advance your career or continue your education by mastering subjects from Python programming and data science to photography and music.
7. Math 42
Math 42 helps students from the 5th to the 12th grade with math homework and preparation for tests. It provides intelligent recommendations and shows how to solve a problem, by giving detailed and illustrated step by step solutions. In addition, this app also has a Training and Test mode that allows you to evaluate your progress and improve yourself.
It is a trusted mathematical resource around the world. It has over 2.2 million downloads and it is used on over 450,000 iPads in schools, in cooperation with the biggest educational publisher in Germany (Klett).
8. Preschool and Kindergarten Learning Games
Preschool and Kindergarten Learning Games is the first in a series of educational apps offered by Kevin Bradford. These basic apps can be great learning tools for basic alphabet, numbers, language and math skills. Each app comes with a few free games to let you try it out, with the remaining games available through an in-app purchase. One nice feature in the games is the slide-to-close mechanic for exiting out of a game. This is great for toddlers and small children who otherwise might accidentally exit from the activity.
9. Geoboard
Do you want a visual way to learn geometry? The Geoboard allows for the drawing of different shapes from a triangle to a square to various other polygons. This allows for visual learning to help conquer subjects like perimeter, area, angles, etc. Moreover, Geoboard features pins that let students create the various shapes, with the iPad version including the standard 25-peg board and an expanded 150-peg board.
10. Ready4 SAT
Ready4's series of test prep apps, like Ready4 SAT, goes well beyond just drilling you to answer practice questions. It actually aims to teach you the material and test-taking tips in mobile-friendly chunks, so that you can study whenever and wherever you have your smartphone. This free app even tries to match your potential SAT score with schools and academic programs around the world, just in case you need extra motivation to study.
11. TED
It is rare that an organization truly makes you think. The TED app lets you peruse more the entire library of more than 1,700 TED Talks videos, introducing you to intriguing presentations and revolutionary ideas from education radicals, tech geniuses, business gurus, musical legends, and the like.
12. Udemy Online Courses
Udemy is the world's largest destination for online courses, training, and tutorials. It has over 1200+ topics and 42,000 courses -- from Web Development to Photography, Data Analysis, Machine Learning to Yoga. It also boasts to have a wide range of expert instructors. Whether you are looking to advance your career or explore a new hobby, it is all in one place.
A few last words
In an era where digital products are quickly replacing traditional learning tools, education is moving towards portable apps. By using a mobile app, you are free from stationary chairs, classrooms, heavy books, or a strict schedule. Instead, it is easier to learn as you can absorb information in short periods during convenient times. For those interested in learning more about various topics ranging from languages to science, our list of apps provides powerful tools to gain knowledge without the traditional experience of school education.
See Also