Verizon FiOS TV 1.9 software update adds an HD guide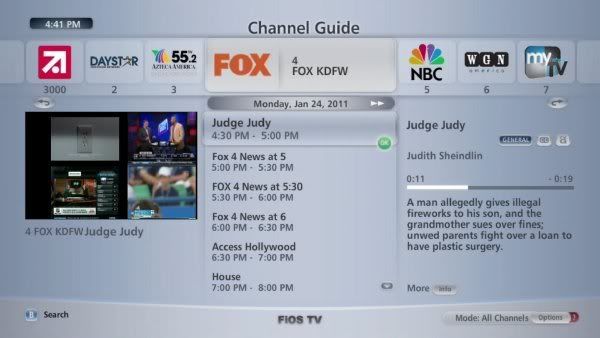 Verizon has finally pushed out version 1.9 of its Media Guide Software to set-top boxes in Buffalo, Syracuse, Albany and Harrisburg. Other regions will be expected to be upgraded in a couple of months. If you have forgotten whats coming with this software, here are the new features: a wide screen HD guide, (its replacing the old 4*3 SD one), support for switching 3DTVs into correct mode automatically, native passthrough, 1080p, external hard drives, DVD style capturing on DVR recordings, new search functions, and access to DVR recordings from boxes in the house.
Check out the trailer
Here is the Press Release
Verizon Unveils the Next Generation of FiOS TV With Enhanced Interactivity and Personalization
Company Uses Customer Input to Create More Than 25 Innovative Upgrades to Its Powerful FiOS TV Interactive Media Guide
NEW YORK April 14, 2011
Verizon continues transforming the way people enjoy and interact with digital media by unveiling on Thursday (April 14) the next generation of its award-winning, all-fiber-optic FiOS TV service.
The company used customer feedback gained from its product development labs, field trials and social media forums to create many of the more than 25 upgrades to FiOS TV's advanced Interactive Media Guide. The enhancements include greater personalization and customization, easier navigation, deeper search, bigger storage options and optimization for new 3D technology.
"Customers are at the center of everything we do, and that includes how we develop our products and services," said Eric Bruno, vice president of product management for Verizon. "We've found that FiOS TV isn't about passive video watching - it has evolved into an entertainment and information destination. Our new generation of FiOS TV is all about increased interactivity, ease of use, simplicity of design and high tech made easy.
"Consumers, who are the catalysts that drive us forward, want to easily and quickly find what they want, discover new content, and interact with entertainment on their own terms. The power and intelligence of our unique, all-fiber-optic network enable all of this and more," Bruno said.
FiOS TV customers in the Buffalo, Syracuse and Albany, N.Y., areas, along with those in the Harrisburg, Pa., region, are the first to get the powerful new upgrades, effective immediately. All other FiOS markets are scheduled to receive the upgrade during the coming months.
FiOS TV customers can learn more about the upgrades on the FiOS TV Central website. A short video highlighting some of the more notable changes can be viewed at http://www.youtube.com/user/verizon?feature=mhum#p/u/6/iqQSE3TpbS8.
Highlights include:
3D content software, which automatically detects when a customer tunes to a 3D program or channel and instantly changes the necessary settings for watching those programs on a 3D television set.
DVR enhancements, which give FiOS TV customers more control with the following:
DVR chaptering, giving viewers DVD-like capabilities to jump ahead or resume viewing at a particular moment of recorded programming by using on-screen thumbnails in 10-minute increments, providing more visual navigation.
Multi-hub DVR, which turns any DVR or HD set-top box in the home into a "hub," allowing customers to record and manage DVR settings from any room in the home, provided one of the DVRs is a multi-room DVR.
eSATA external storage device compatibility, available with most FiOS TV DVRs, allowing for increased overall storage capacity. eSATA hard drives can be purchased at most consumer electronics stores and will automatically record customer selections once plugged into the DVR.
New "play all" and "delete all" options, allowing customers to play episodes back-to-back and automatically delete all episodes of a show with the push of a button.
Personalization features, which let FiOS TV customers enjoy entertainment on their own terms, including:
New parental control options that make monitoring children's viewing even easier, with the ability to block out portions of programming by rating during key hours of the day, like homework time, and schedule certain times for Parental Controls to be automatically turned on and off for greater flexibility.
Guide customization, enabling a variety of settings, with a mini guide on the bottom of the screen, a half guide on the right side of the screen, and a full guide with a look at more hours of scheduled programming.
Improved search capabilities, which provide a smarter search function that predicts what the customer is looking for and automatically provides potential matches. FiOS TV customers also can filter and sort by channel, and more easily locate favorite programs.
Verizon's FiOS TV Interactive Media Guide can be accessed with the FiOS TV remote control or by using Verizon's FiOS Mobile application, which turns an iPhone, iPod Touch, iPad or Android device into a remote control for a FiOS HD set-top box, making parental controls, customized interactive applications and program recording options easy to access.
"As customers explore the richness of their FiOS TV service, they'll find an easy-to-manage, highly interactive, technologically advanced offering unlike anything available in the marketplace today, delivered over the ultimate, advanced network," said Bruno. "We're erasing technology boundaries to free customers to benefit from everything they're looking for in entertainment - at home and on the go."
The next-generation FiOS TV is built upon a long series of innovations, including: Flex View and FiOS TV Online, which extend FiOS TV beyond the home to the Internet and a range of mobile devices; free interactive applications including Facebook, Twitter, YouTube, Yelp, HSN Shop By Remote, TMZ and others; Media Manager, which allows customers to access personal photos, music and videos from their computers on their TVs; and In-Home Agent, which frees customers to use simple online tools to diagnose and resolve a range of service issues.
For the latest news, updates and information about FiOS TV, visit www.verizon.com/newscenter and http://www.verizon.com/athomeblog.
Verizon Communications Inc. (NYSE, NASDAQ:VZ), headquartered in New York, is a global leader in delivering broadband and other wireless and wireline communications services to mass market, business, government and wholesale customers. Verizon Wireless operates America's most reliable wireless network, serving 94.1 million customers nationwide. Verizon also provides converged communications, information and entertainment services over America's most advanced fiber-optic network, and delivers innovative, seamless business solutions to customers around the world. A Dow 30 company, Verizon employs a diverse workforce of more than 194,000 and last year generated consolidated revenues of $106.6 billion. For more information, visit www.verizon.com.