Valve Announces SteamOS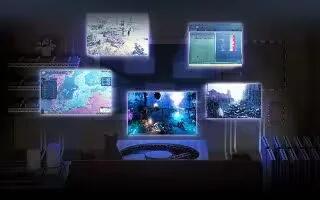 Valve has lifted the lid on the first of its three announcements due this week and it is SteamOS.
At LinuxCon in New Orleans, Gabe Newell first mentioned more SteamBox details would be coming. Last week Valve put up a countdown page about "the Steam universe expanding" next year with three icons, each signifying a major announcement. The countdown timer for the first announcement has been expired and revealed to be the long rumored SteamOS.
The Linux-powered SteamOS is the logical extension of Valves work on porting their game engine and titles over to the platform. Further more, the company see it as being the heart of their plans for the living room aka the SteamBox console.
As weve been working on bringing Steam to the living room, weve come to the conclusion that the environment best suited to delivering value to customers is an operating system built around Steam itself, the SteamOS page reads. SteamOS combines the rock-solid architecture of Linux with a gaming experience built for the big screen. It will be available soon as a free stand-alone operating system for living room machines.
Valve said SteamOS contains "significant performance increases in graphics processing," and the company is now working on improving input latency and audio performance." "Game developers are already taking advantage of these gains as they target SteamOS for their new releases." No specific developers are named, one can suspect 4A Games (developers of Metro: Last Light) and Crytek among them.
Valve also mentions, "hundreds" of games already run on SteamOS, and announcements about AAA titles being brought to SteamOS in 2014 are coming in the next few weeks. In-home streaming is Valve's solution for games that don't support SteamOS natively it'll allow you to run Steam on your existing Windows- or Mac-based PC and use a SteamOS-based machine to stream them to the television in your living room.
The OS and the yet to be announced hardware are intended to compete with traditional game consoles, and it seemingly evolves Steam's "Big Picture Mode" to that end. Valve specifically lists four new features as the pillars of SteamOS: in-home streaming, family sharing, music / TV / movies, and family options.
For in-home streaming, Valve promises simplicity by allowing you to simply turn on an existing PC or Mac with Steam and start beaming games over WiFi to your TV.
In terms of media, Valve says it's working with "many of the media services you know and love" to bring access to various media services.
Family sharing and family options both offer accessibility for Steam to multiple household members, as well as the ability to restrict certain features or content to younger users. Specifically, users can " take turns playing one another's games while earning your own Steam achievements and saving your individual game progress to the Steam cloud." Family sharing is actually already in beta on Steam right now.
In keeping with Valves spirit of user-generated content, the new game-focused operating system will be open allowing Content creators can connect directly to their customers, according to Valve, and users can alter or replace any part of the software or hardware they want.
According to the info on their official site, SteamOS will be available soon as a free download for users and as a freely licensable operating system for manufacturers. Also a list of AAA titles coming natively to SteamOS in 2014 will released in the coming days.
For more information visit - http://store.steampowered.com/livingroom/SteamOS/