Splitfish FragFX Shark To Surface For Xbox 360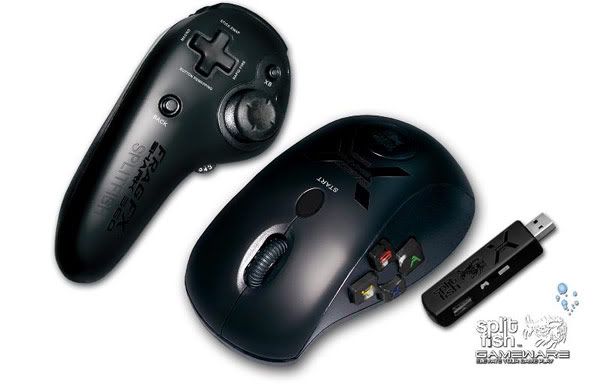 Splitfish is now bringing its flagship PC and PS3 mouse controller to the Xbox, albeit packing on odd wireless caveat. It needs a wired Xbox360 gamepad to act as an intermediately between itself and the console. The wired controller plugs into the Sharks wireless USB; the macro-equipped fragchuck and mouse themselves are completely untethered. It will be coming in late August, for more details read the press release
Here is the Press Release
Splitfish Unleashes the "Holy Grail of FPS" Controllers: The FRAGFX SHARK, on XBOX 360
Playing games like Call of Duty Modern Warfare3 and Gears of War3 on XBOX 360 will now be better than ever.
Zurich Switzerland - May 24, 2011 - Splitfish AG, the inventors of the world's leading high-end precision gaming mouse console controllers, today announced the long awaited FRAGFX SHARK 360, the world's first super precision mouse hybrid gaming controllers for XBOX 360, built to make it possible to play FPS games such as the upcoming GEARS OF WAR 3 and CALL OF DUTY: MODERN WARFARE 3 in the most intuitive and precise way possible on a game console,a PC, or a Mac. The FRAGFX SHARK 360 will be available at the end of August 2011.
Splitfish worked closely with some of the worlds most prolific designers and hard core game teams to perfect a robust and easy to adapt controller that brings the ultimate combination of mouse aiming and analog stick movement to the XBOX 360. The FRAGFX SHARK 360 has been the most requested and highly anticipated development from the Splitfish design team yet.
"The FRAGFX design for XBOX 360 has been the most requested gaming periphery device from FPS gamers by far. We literally have thousands of emails where gamers have inquired about when a FRAGFX SHARK for 360 would be here. Finally it is! Gamers will be blown away by the pinpoint tracking accuracy and special functions. We are proud to have been able to colaborate with high profile gamers such as zDD [game tag "EDIT" on xbox], the Teflon hearts team, and also really appreciate the input we have received from so many other passionate gamers. These opinions were invaluable in helping us bring the uber successful FRAGFX SHARK design to the XBOX 360." says Jason Johnson, Head of Creative Development for Splitfish.
Key Features:
2 AA batteries (not included)
NEW 50h + play time
NEW 500h + power save standby
Play with the mouse on the XBOX 360 as you would do on a PC
Full XBOX 360 PC and MAC support, either as a gamepad or mouse/keyboard control
Fast access to special features (eg macro, rapid-fire, button swap, stick swap, etc.)
Brand new wireless technology to 2.4 GHz
Plug and Play
On the fly dead zone adjustment wheel
SixAxis support
The FRAGFX SHARK 360 is a significant step forward for the console gaming industry because it not only provides an almost perfect PC mouselike FPS experience for gamers on the XBOX 360, but also provides an easy to adopt, high end, fully programmable analog stick counterpart that make it possible for hardcore PC FPS fans to enjoy their favorite shooters on XBOX 360, MAC or PC.
The Splitfish FRAGFX SHARK 360 lets you play FPS games on a console the way the were originally meant to be played - PLUS MUCH MORE. With the FRAGFX SHARK 360 you can intuitively aim with a mouse and adjust sensitivity on the fly as well as use advance functions like button remapping, turbo, wrist flick melee and much more with ease. With Splitfish's trademark lag free and highly precise one-to-one tracking you get the maximum FPS experience and total immersion.
The FRAGFX SHARK 360 is optimized for FPS shooters, but also has all the functions of a regular XBOX 360 controller - so it can be used for all games. Gamers do not have to go through complex procedures for button mapping or sensitivity adjustments, The FRAGFX SHARK 360 is designed for simple and intuitive on the fly customization. Also, just like it's brother, the FRAGFX SHARK, the FRAGFX SHARK 360 has an uber long battery life of 50 hours of gameplay and 500 hours of standby on 2 AA batteries.