Samsung Launches Gamepad For Android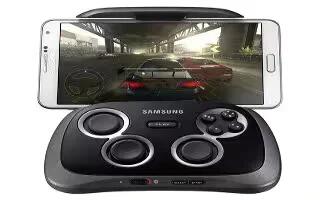 Samsung Announces the Smartphone Gamepad, a Bluetooth Gaming Controller for Android. The Smartphone GamePad' syncs up with your Android-powered phone via Bluetooth, unlike Apple's gamepads which need to be physically attached. While designed with Galaxy owners in mind, all phones powered by Android 4.1 with a screen size of 4 to 6.3 inches will be able to use the pad. At launch, that button promises to foster a list of some 35 compatible titles, with Need for Speed: Most Wanted and Prince of Persia: The Shadow and the Flame leading the pack. The Smartphone GamePad uses a Bluetooth connection to link up with a smartphone. But, all the smartphones which are powered by Android 4.3 enjoy more features, including NFC connect support.
Features Samsung GamePad
The device weighs in at 195g and has an eight-way D-Pad, two analog sticks and four actions along with two triggers.
The GamePad comes along with an application called The Mobile Console app with the help of which the users will be able browse and buy some supported games.
The GamePad will mostly support all the Android smartphones, but the feature such as Play switch is especially for Samsung Galaxy family.
Samsung Galaxy device owners can attach their phones up to the TV using an HDMI cable or mirroring apps like AllShare and then they can have home console experience using the GamePad.
The new controller has an eight-way D-pad, two analog joysticks, four action buttons and two trigger buttons along with select and start button. Samsung Smartphone GamePad Product Specifications
Compatibility: Android OS 4.1 more (Optimized for Samsung devices with Android 4.3 more)
Connectivity: Bluetooth v3.0, NFC (Samsung devices with Android 4.3 more) 3.0 class 2, HID
Control Keys: D-Pad (8 way), 2 Analog Sticks, 4 Action buttons and 2 Trigger buttons, Select button and Start button, PLAY button (Samsung devices with Android 4.3 more)
Dimensions: 137.78 x 86.47 x 31.80mm, 195g
Battery: Rechargeable 160mA
Colour: Black At present the gadget is available in selected countries in Europe, although the price of the gadget has not been revealed as of now. GamePad easily connects with smartphones and tablets through Bluetooth pairing. The most convenient features optimized for Samsung Galaxy devices running Android 4.3 such as Galaxy Note 3, S4, Note II, and S III enable easy connectivity with GamePad via NFC tag and quicker access to games via the PLAY button.