Samsung Exhibit 4G And Gravity Smart On T-Mobile From June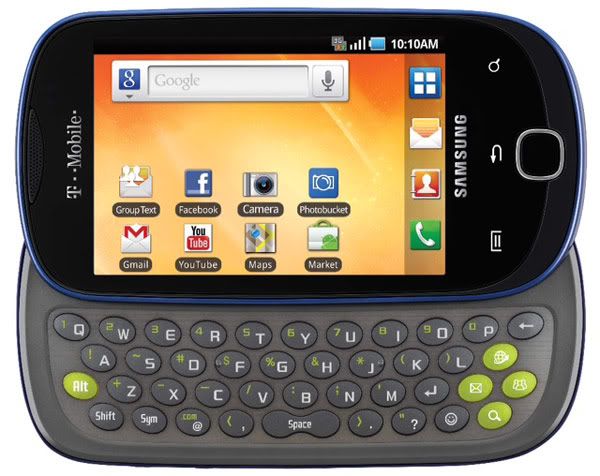 The carrier has now announced that the Gingerbread smartphone will be available in June. The Exhibit will join Samsungs Gravity Smart, both features grounded sub $100 price tags when they hit the stores. T-Mobile displays the Exhibit with violet and black finishes and says it got theoretical peek download speeds of 21Mbps on the HSPA+ device. On the carriers first android powered smartphone Gravity will come with Froyo edition, includes a QWERTY keyboard, both includes a 3MP camera and rear facing with flashes, while Exhibit got a front facing camera as well. For more details read the press release
Here is the Press Release
T-Mobile USA and Samsung Mobile Introduce Two New Feature-Rich and Budget-Friendly Android-Powered Handsets
Expected to become available this month, the Samsung Exhibit 4G and Samsung Gravity SMART will each deliver on-the-go entertainment and connectivity for less than $100
BELLEVUE, Wash., and DALLAS - June 2, 2011 - T-Mobile USA, Inc. and Samsung Telecommunications America (Samsung Mobile), the No. 1 mobile phone provider in the U.S. 1, today announced the upcoming availability of two new feature-rich Android-powered handsets, the Samsung Exhibit 4G and Samsung Gravity SMART, each less than $100 after a $50 mail-in rebate and with a qualifying rate plan on a two-year agreement.
"The Samsung Exhibit 4G and Samsung Gravity SMART will expand T-Mobile's product portfolio to include two affordable options for customers who crave rich connectivity and unique entertainment experiences," said Andrew Sherrard, senior vice president, product management, T-Mobile USA. "T-Mobile is continuing to help families easily make the move to smartphones with these new Android-powered handsets, together with data plans as low as $10 per month, all running on America's largest 4G network."
"The Samsung Exhibit 4G and Samsung Gravity SMART are two examples of Samsung's commitment to delivering quality smartphones at a variety of price points," said Dale Sohn, president, Samsung Mobile. "The Samsung Exhibit 4G shows Samsung's dedication to delivering premium entertainment content, while the Samsung Gravity SMART builds on the success of our Gravity line of phones with premium messaging options, both at an exceptional value."
Samsung Exhibit 4G
One of the fastest smartphones running on America's Largest 4G Network2, the Samsung Exhibit 4G is a full-featured, touch-screen device that does not compromise on rich entertainment capabilities. Powered by Android 2.3 Gingerbread and equipped with a speedy 1GHz processor, the Exhibit 4G delivers a full entertainment package to the palm of your hand at blazing fast speeds.
Through the delivery of faster speeds comes an enhanced viewing experience when enjoying live and on-demand channels from preloaded T-Mobile TV, including free programming from select stations like ABC News Now, FOX Sports, PBS Kids and Azteca America. Customers also have the option to rent or purchase their favorite movies and TV programs directly from the Samsung Media Hub, which features a robust collection of new releases and TV shows. In addition, the Exhibit 4G offers hours of amusement with preloaded family favorites such as Bejeweled 2, Hasbro's SCRABBLE (in U.S. and Canada only) and Doodle Jump.
Becoming available in two color finishes - violet and black - the Exhibit 4G is the perfect companion for someone looking for their first, or next, Android smartphone. With theoretical peak download speeds of 21Mbps, capturing and sharing memories via email, social networks or video is quick and easy. The Exhibit 4G comes equipped with a 3-megapixel camera with flash and a camcorder, as well as a front-facing camera with video chat pre-installed, enabling customers to virtually connect with friends and family via T-Mobile's network or Wi-Fi.
Samsung Gravity SMART
As the first Android-powered handset in the successful Gravity product lineup, running on Android 2.2 Froyo, the Samsung Gravity SMART is perfect for T-Mobile customers who are looking for an affordable, yet functional messaging device. Built to deliver a premium messaging experience, the Gravity SMART comes equipped with Group Text and combines a spacious, horizontal, four-row, slide-out, QWERTY keyboard with a 3.2-inch touch-screen display featuring Swype for easy text input, even with the keyboard closed. In addition, pin it notes enables customers to pin important messages to Gravity SMART's home screen for quick reference.
Keeping in touch with friends and family is easy and fun with the Gravity SMART, which features integration with popular social networking sites and a full HTML Web browser for posting and viewing status updates. The Gravity SMART also includes a 3-megapixel camera with LED flash, digital zoom and a camcorder for capturing photos and videos.
The Samsung Exhibit 4G and the Gravity SMART offer access to more than 200,000 applications available on Android Market and full integration with Google Mobile services.
Availability
The Samsung Exhibit 4G and the Samsung Gravity SMART, both exclusively from T-Mobile, are expected to be available to T-Mobile customers in June. Customers can visit http://samsung.t-mobile.com/exhibit-4g for more information on the Samsung Exhibit 4G or http://www.t-mobile.com or http://www.samsung.com/newsroom for more information on the Samsung Gravity SMART.