Remote Control Your Home from your PC - Part 1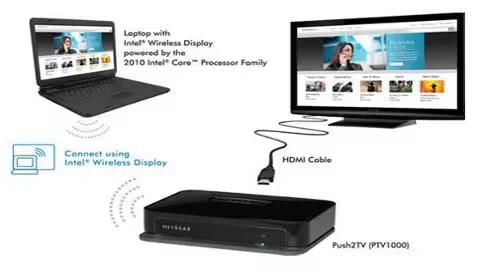 Your computer is able to connect more devices in your home using Wi-Fi and Windows 7 built in functions.
Make use of your windows 7 utilities to turn your network into a super - LAN in which you can stream your videos and mp3 on your stereos. Make your TV Wi-Fi compatible using your cell phone. Send your pictures from camera to your computer wireless. Equip your Laptop and Tablet. Inthis part we lets discess about some devices to connect your TV and Audio system and the basic functionality to configure on your PC and other devices to make them compatible to work.
Devices that were scattered around the house and not living up to their potential can now be made work together. Now Microsoft has developed one built in function called HomeGroup. By using this home group and Wi-Fi you can connect those devices in your home to a Super LAN.
Choose a Wi-Fi router for the best transfer speeds, and with USB ports for maximum flexibility. In order to ensure that your home network transmits between to all devices, you first need to set up the communication center your Wi-Fi router. You should use the device is of right standard by looking for an N symbol on the packaging of your router. So use a best router hub to make these things possible. Creating your Home group
A homegroup in Windows 7 makes it easier to share files and printers on a home network. You can share pictures, music, videos, documents, and printers with other people in your homegroup. As a security measure, other people cant change the files that you share, unless you give them permission to do so. When you set up a computer with Windows 7, a homegroup is created automatically if one doesnt already exist on your home network. I assume that you already have an existing homegroup in one of your Windows 7 computers. If a homegroup already exists, you can join it. To connect a second computer to the homegroup go to the first computers control panel, then click HomeGroup Windows 7 computers, go to the Control Panel > HomeGroup then click Join Now: The concept of homegroup simplifies the file sharing on small scale home networks. In older versions of Windows like 2000 and XP, users had to supply a login and password for another machine or map a network drive to access shared content or devices. First ensure that the Network location type is set to Home on all computers. Otherwise Windows will refuses access for security reasons.
Click,Control Panel Network and Internet Network and Sharing Center Home Network then go to View your active Networks.
Exchanging Data
In Home Group you can see the share data of other computer option . The PC on which the data actually is must be turned on and active. You can also Deactivate the StandBy and Idle modes on those devices.
Adjusting the Shared Settings
All the file in the 'Documents' libraries are shared in the home network group. If you want to add a particular folder. Open it in the explorer and then Share with HomeGroup. This is to no one can alter your files even they access them. You can also block with the same method.
Adding More devices
Lets see about how to connect more devices in your home to your computer and mobile now. All Windows 7 computers now have the access to your multimedia files using the Home Groups function. Other devices need a one more setting 'DNLA' and 'UpnP-AV', So first activate the DNLA(Digital Living Networking Alliance) and UPnP-AV(Universal Plug and Play Audio/Video) settings. The functionality of Windows 7 is compatible devices like TV, Game consoles, media streamers and lot of them can be accessed through your PC.
Add this setting to access those Choose 'Home Group and Sharing Options' in the Control Panel and put a mark in front of 'Stream My Pictures, Music and Video to all the devices on my Home Network'.
Connect your Wi-Fi TV
You don't need a most expensive TV to play video from your computer. Make your old TV set Multimedia compatible. You can see your films on the Big Screen of your TV.
If you want to control playback directly from your computer, it is best of you use your TV as additional display. Modern laptops like Intel Core i-series CPUs use Intel's new Wireless Display functions. You need a receiver on the other end. The Netgear PTV1000 solves this problem, this is a TV adapter for Intel Wireless Display. You can connect your laptops through Wi-Fi and your computer through HDMI cables. Install the provided software for the device to play the movies from your laptop and Desktop.
Use TV as a Media Player
Some TVs are already equipped with a media player functions. They can control the browsing and play back of contents either on a connected USB storage device or the network through HDMI cable or Wireless connection. If you TV supports wired networking but not Wi-Fi means, the HomePlug option is again your best to avoid laying cables around the house. The network capable TVs come with configuration settings but can usually recognize your network. They scan your shared folders and DNLA, UPnP servers, including your computer's media library and some extrernal hard drives.
Upgrade your TV with a Media player
If your TV does not have a networking connectivity or USB support, several devices exist that connect through HDMI and allow you to stream both from shared networks and connected USB hard drives.
Using existing Game Console If you have a Xbox, you can also use it to access files on your PC through the network, play them directly on your TV. The Media Center Extender functionality of Xbox brings you, to see TV recordings and Live TV tuner card is Installed in Windows PC. The latest Xbox 360 models come with Wi-Fi built in and older ones can be fitted with an adapter to work perfectly with your home network.
Audio Hi-Fi systems can be easily used to play your MP3 using the same DNLA and UPNP-AV functions of your PC or external storage devices. If you want the best solution to connect means go for Sonos player, D-Link, Logitech players based on your budget. The Wireless player stream your music from your music collection and let you to control anywhere from the house. Connect your player to the router, install the configuration software on your computer. Then you can easily stream your music using your PC to Audio player . You can control everything using PC or your Audio player.
In this part we discussed about how to connect Wi-Fi TV and Audio players, lets wait for the next part to of Connect Everything to connect your cell phone, Camera, Printer and use it anywhere from your home without wired connections.