NVidia Optimus Graphics Technology Will Be Launched For Desktop

NVidia's new Optimus Graphics Technology which is available only to notebooks till now, will be launched for desktops at the COMPUTEX 2011 convention in Taipei, Taiwan starting May 31. For those who are new to the term Optimus Graphics Technology of NVidia will allow automatic switching between integrated GPU and discrete GPU as required for optimal performance. This technology offers great graphics performance and better battery life for notebooks.
Laptops based on the new Optimus Graphics technology claims to have better battery life and graphics performance. This technology switches between integrated graphics on motherboard and discrete graphics on the graphics card based on the applications requirement, for example whenever a heavy graphics oriented program or game is launched Optimus Technology will switch over to the discrete graphics on the graphics card, while for normal browsing and email, it switch to the integrated graphics and thus improves the battery life of notebooks and laptops.
VR-ZONE has revealed some details about the Desktop version of Optimus Graphics Technology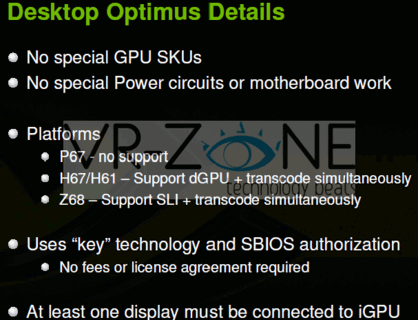 According to the report from VR-ZONE, NVidias Optimus Technology will support Intel H67/61 Express chipset and Intel Z68 based motherboard for Intel Sandy Bridge processor line-ups. This technology will also perform video transcoding job by using the Sandy Bridge Quick Sync technology.
Of course these recent motherboards would be dependent on updated BIOS as well as graphics drivers to make the best of Optimus technology. In case of laptops, it promises and offers longer battery life. So we'll have to wait for NVidia to tell us what extra it would offer for desktops.
Image Credit: VR-ZONE