Nokia Launches Ovi Maps 3D Beta, Challenges Google Earth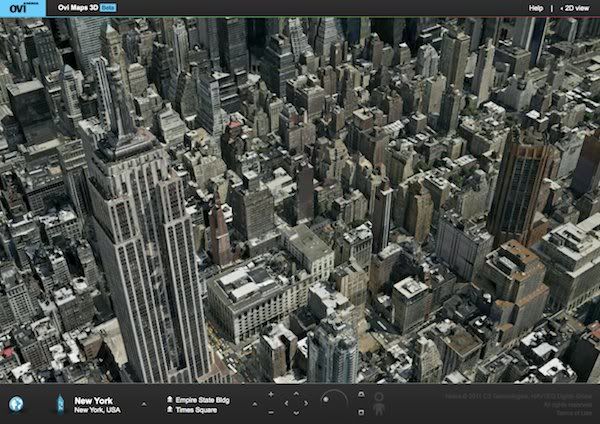 Nokias just launched beta version of Ovi Maps 3D. There is some little help from Navteqs maps and some software wizardry, its now able to display cities in a new 3D view that you are able to zoom in and around to your hearts content. You can also do the same thing on Google Earths 3D view too, but Nokia just might have a leg up in some respects. For more Read the Press Release. To download Nokia Ovi Maps 3D click on the download link.
Click on the link below to download Ovi Maps
Here is the Press Release
Nokia launches photorealistic 3D models of metropolitan areas for Ovi Maps
Published April 19, 2011
- Unparalleled degree of 3D realism and scale helps people get a feel for places before they get there
- Major step in Nokia's plans to bridge real and virtual worlds
Espoo, Finland - Nokia today announced photorealistic 3D models of metropolitan areas for the web version of Ovi Maps. This immersive and free feature adds a new dimension to the Ovi Maps experience and enables people to explore places in a completely different way.
Introduced at the Where 2.0 conference in Santa Clara, California, Nokia's 3D offering is the most realistic available and goes beyond rendering limited areas and buildings by making entire cities, including suburbs, available for exploration.
Starting with a bird's-eye view, people can scale up and down and move around objects such as buildings and trees from their desktop, experiencing a virtual but super realistic perspective of new places. Road-level imagery completes the experience with a detailed 360-degree panoramic view of streets.
With the beta service featuring 20 metropolitan areas, the number of photorealistic 3D models will increase over time. The road-level imagery is now available for five cities, Copenhagen, Helsinki, London, Oslo and San Francisco.
With the goal of bridging the real and virtual worlds on both mobile and web, Nokia's Ovi Maps for mobile covers 180 countries, nearly 100 of them navigable in 53 languages. Ovi Maps on the web covers 180 countries, 93 of them navigable, in 29 languages.
"Ovi Maps' photorealistic 3D models of metropolitan areas are a significant step towards our vision of bridging the real and virtual world, with location-based services being the glue," said Michael Halbherr, senior vice president, Nokia.
"With Ovi Maps on mobile, Nokia has shown its ability to transform a useful feature into a mass market experience that lays the foundation for innovation in location-based services beyond traditional routing benefits. With its efforts to expand the service to the web, Nokia is proving that it offers a holistic service," said Daryl Chiam, Principal Analyst, Canalys.
Nokia's photorealistic 3D models of metropolitan areas initially include:
- Barcelona
- Boston
- Chicago
- London
- Copenhagen
- Florence
- Helsinki
- Las Vegas
- Los Angeles
- Madrid
- Miami
- Milan
- New York
- Oslo
- Prague
- San Francisco
- Stockholm
- Toronto
- Venice
- Vienna