Navigon Mobile Navigator for iOS updated with augmented reality and safety camera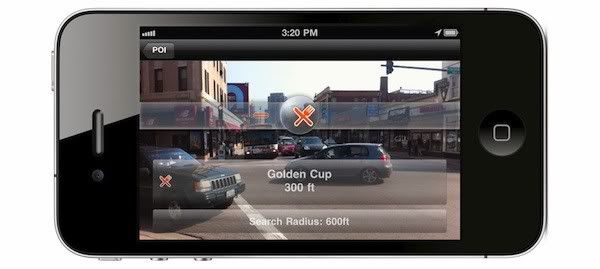 Navigon just recently rolled out a stylish iPhone car kit for use with its iOS navigation app, and it is now announced fairly significant update to the app itself. The usual basic navigation features, Mobile Navigator 1.8 now also boasts augmented reality component dubbed the Reality Scanner that overlays point of interest on top of a live camera view and a new Safety Cameras feature that warns you the speed and red light cameras.
Here is the Press Release
NAVIGON Updates iPhone Navigation App with Augmented Reality and Safety Camera Features
MobileNavigator Version 1.8 Also Delivers Latest NAVTEQ Maps and a Traffic Check Function
HAMBURG, Germany--(BUSINESS WIRE)--NAVIGON AG, a leading provider of mobile phone on-board navigation, today announced the availability of the eighth update for its iPhone app, MobileNavigator, the most feature-rich navigation solution on the iOS platform. The update adds a Reality Scanner feature that helps finding points of interest close-by, presenting them in an augmented reality view. Version 1.8 also includes safety camera alerts as an In App Purchase, an at-a-glance traffic gage and a new NAVTEQ map. In conjunction with the update launch, MobileNavigator apps and In App Purchase prices will be reduced by up to $15 thru April 28, 2011.
"In its eighth version, MobileNavigator delivered over 30 new features since our launch almost two years ago, helping drivers navigate stress-free through even some of the most challenging situations on the road," said Gerhard Mayr, vice-president worldwide mobile phone business, NAVIGON. "MobileNavigator not only provides accurate directions but acts as a travel assistant with many industry first features. The new Reality Scanner function provides an innovative way of displaying points of interest close-by. Instead of showing them on the map, the feature projects them onto a real-time camera view."
MobileNavigator 1.8 New Features:
* Reality Scanner is a navigation industry first augmented reality feature for the iOS platform, providing an instant and effortless way of identifying destinations close-by. Users simply point the iPhone in any direction from where they are and instantly points of interest icons appear directly onto a live camera view, indicating the exact position of the location. Pedestrians won't miss a beat while they are on foot, in a couple of taps destinations such as restaurants, bars, hotels, and more are at their fingertips.
* Safety Cameras alert drivers of upcoming static speed and red light cameras along the route, helping to potentially avoid costly tickets. The feature integrates the database from the industry's number one safety camera detection company, RoadTraps. This database provides access to over 3900 speed and red light cameras in the US and is regularly updated to ensure the latest cameras are detected. NAVIGON Safety Cameras is available as a single In App Purchase of $4.99.
* Traffic Check is an easy to read, at-a-glance gage graphic that appears after route calculation and informs drivers of current traffic conditions. The Traffic gage pop-up informs with a green, yellow, and red meter and disappears within a few seconds, indicating how the traffic situation is on the route ahead. If more detailed traffic coverage and alternate routes are needed for users who are not already using the built-in Traffic Live feature, a direct link to the In App Purchase is provided within the graphic. By tapping the "i", the meter will flip directly to the apps extra menu where the In App Purchase can be made.
* The Latest Maps by the leading map provider NAVTEQ.
* Future Version Benefits NAVIGON is currently working on some major additions for MobileNavigator and only those who have this latest version are eligible to take advantage of the benefits in the next version.
MobileNavigator transforms the iPhone and iPad 3G into a comprehensive navigation device, comparable to standalone units. The app helps drivers to arrive stress-free and on time with spoken directions and a unique combination of advanced driving guidance. Features include lane assistance, traffic rerouting, parking options, safety camera alerts, weather information and much more. By providing directions even in areas without a cell or wireless signal, and the latest NAVTEQ maps saved on the phone, the app always has you covered. It is the most feature rich on-board navigation application and a top-grossing app several times in 29 different App Stores around the globe.
Pricing and Availability
NAVIGON's North American apps and selected In App Purchases are up to $15 off until April 28, 2011. The promotional offerings are below next to the regular prices.
Applications
MobileNavigator North America: $44.99 instead of $59.99
MobileNavigator USA: $34.99 instead of $49.99
MobileNavigator Canada: $34.99 instead of $59.99
MobileNavigator US MyRegion East, Central or West: $24.99 instead of $29.99, additional regions $12.99 instead of $14.99.
In App Purchases
Safety Cameras: $4.99
Traffic Live: $14.99 instead of $19.99
ZAGAT Survey Ratings and Reviews: $7.99
Panorama View 3D: $9.99
Accessories
NAVIGON Design Car Kit for iPhone: $44.95 instead of $49.95, available at BringMobi.com
MobileNavigator 1.8.0 is compatible with iPhone 4, 3GS, 3G iPad 3G and iPad 2 3G. The app also runs on first generation iPhone and iPod Touch, but third party accessories for GPS reception are required for these devices.
For more information, please visit: www.navigon.com/iphone.
Find NAVIGON on:
Twitter: www.twitter.com/NAVIGON_US
Facebook: www.navigon.com/facebook
Flickr: www.navigon.com/flickr
YouTube: www.navigon.com/youtube
About NAVIGON:
NAVIGON AG is a world-leading provider of premium navigation technology. The company delivers branded personal navigation devices and software for smartphones and the automotive industry. Founded in 1991, NAVIGON led the way for the last 20 years with innovative German technology and design. NAVIGON offers on-board navigation applications for all leading smartphone platforms and is present in Asia, Australia, Europe, North America and South Africa.