Mozilla Firefox Crosses 100 Million Downloads; No Change In Browser Share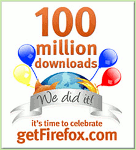 Mozilla Firefox 4.0 has reached 100 million downloads, Mozillas community coordinator for Firefox marketing revealed it on his personal blog last weekend. While this is quite a achievement , a web analytics company showed that Firefox 4 has done nothing to boost Mozillas overall share of the browser market. Most of the 100 million downloads are done by existing users to upgrade their older Firefox versions. It is to be noted that Firefox 4 was well received by critics and users.
The Firefox 4 Download Stats site, which can be found at glow.mozilla.org, shows a constantly updating counter of all Firefox 4 downloads to date and it has crossed 103 million and going towards 104 million at the time writing.
But these numbers does not mean a growth in Mozillas share of the browser market. According to Irish Web metrics company StatCounter, Firefox 4 downloads have translated into a usage share jump for that edition since its March 22 launch. Through April 24, Firefox 4's average share for the month was 7.3%, more than double the average for March. In the past four days, its share has exceeded 8%. But according StatCounter Firefox -- all editions, including Version 4 -- down three-tenths of a percentage point so far this month, consistent with the steady decline the browser has suffered since last fall.
Mozilla has yet to offer Firefox 3.6 users the upgrade to Version 4 -- that isn't scheduled to start until May 3 -- but from the numbers, all of Firefox 4's gains can be attributed to current users upgrading on their own. Firefox 3.6's March share of 24% tumbled to 19.2% this month, a 4.8-point loss that nearly matched Firefox 4's five-point gain during the same period.
By StatCounters report Microsoft Internet Explorer 9, which got released on March 14, also failed to improve IE share in the browser market. IE 9 is praised for its improvement in performance from IE 8, HTML 5 standard compliance and having 95/100 in Acid 3 tests. (Firefox has a score of 97/100, Opera with 100/100 and Google Chrome with 100/100)
While IE9 averaged a 2.1% share through April 24, and in the past several days climbed above 3%, its gains were not at the expense of rivals: StatCounter has all versions of IE down five-tenths of a point in April.
Firefox 4's larger gains aren't a surprise. The browser runs on Windows XP, Mac OS and Linux, all operating systems that IE9 does not support.
Here is how the Firefox 4 downloads are spread out, by region:
Europe 38.1 million
North America 29.6 million
Asia 19.6 million
South America 7.4 million
Africa 3.0 million
Oceania 1.7 million
And the top 10 countries by downloads are
United States 24.23 million
Germany 7.26 million
France 3.53 million
India 3.35 million
Russia 3.21 million
Brazil 3.20 million
United Kingdom 3.19 million
Canada 2.75 million
Italy 2.66 million
Indonesia 2.66 million
One small surprise is that theres no China on the list, in spite of being the largest country on the Internet with its 420 million Internet users. Firefox 4 has so far been downloaded less than 700,000 times in China.
With the daily download is now reached stable after initial bursts, it still hovers under 2 million download a day. Considering that Mozilla will make Firefox 4 as mandatory update for Firefox 3.6 by this coming month (Probably May first half), I would gladly call Firefox 4 as a great success for Mozilla. With Firefox 4 now firmly in place, it will be interesting to see how the new rapid release schedule will be affecting Firefox (versions 5, 6 and 7 will all be released this year).
Theres clearly plenty of life left in Mozillas open source web browser and the release of Firefox 4 has to be called a resounding success. With Firefox 4 now firmly in place, it will be interesting to see how the new rapid release schedule will be affecting Firefox (versions 5, 6 and 7 will all be released this year).
Download Link: