Motorola and Huawei drop pending lawsuits, enters info sharing agreement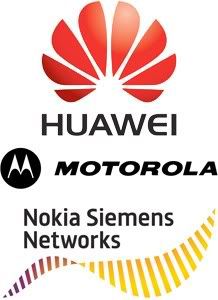 After months of fighting between these both, Motorola and Huawei have finally come to an agreement to settle their differences once and for all. Both of them dropped their pending lawsuits, with Motorola originally accusing Huawei of stealing trade secrets from its former employees, and later on Huawei getting all worried about Motorola leaking confidential information over their partnership revealing Nokia Siemens Networks.
The new agreement will allow Motorola to transfer its commercial agreements with Huawei to NSN for a fee; it would permit them to use this info to service Motorolas networks that utilise Huaweis equipment.
Here is the Press Release
Motorola Solutions and Huawei Issue Joint Statement
CHICAGO, Ill. April 13, 2011 Motorola Solutions, Inc. (NYSE: MSI) and Huawei Technologies Co., Ltd. announced today that they have entered into an agreement to settle all pending litigation between the two parties pending the satisfaction of certain conditions. For its part, after further review of the matter, Motorola Solutions has agreed to withdraw its claims and dismiss, with prejudice, Huawei as a defendant in the Motorola v. Lemko, et al. litigation pending in the Chicago federal district court. For its part, Huawei has agreed to withdraw its claims and dismiss, with prejudice, its lawsuit against Motorola Solutions and Nokia Siemens Networks (NSN) in the Chicago federal district court and to resolve its claims against Motorola Solutions and NSN by entering into an agreement that allows Motorola Solutions to transfer its commercial agreements with Huawei to NSN for a fee, and allows NSN to receive and use Huawei confidential information to service the networks Motorola deployed worldwide using Huawei's products and technologies.
In 2000, Motorola and Huawei entered into an important, successful commercial relationship during which Motorola resold certain Huawei products under the Motorola name. Over the next ten years, Motorola purchased $880 million in technology from Huawei that covered core networks and radio access networks.
"We regret that these disputes have occurred between our two companies. Motorola Solutions values the long-standing relationship we have had with Huawei. After reviewing the facts, we decided to resolve these matters and return to our traditional relationship of confidence and trust. I am pleased that we can again focus on having a cooperative and productive relationship," said Greg Brown, President & CEO of Motorola Solutions.
"Throughout our decade long relationship with Motorola Solutions, Huawei has contributed cutting edge technology to Motorola Solutions for use around the globe. Huawei provided Motorola's experts and counsel with source code and millions of documents. Huawei acted properly and above board at all times and developed its products independently and without the use of any Motorola trade secrets. With the resolution of these cases, and the misunderstandings put to rest, Huawei is pleased to move forward with its efforts to provide innovative solutions to its customers," said Guo Ping, Vice Chairman of the Board and Executive Vice President of Huawei.