LG Introduces KizON Wearable For Kids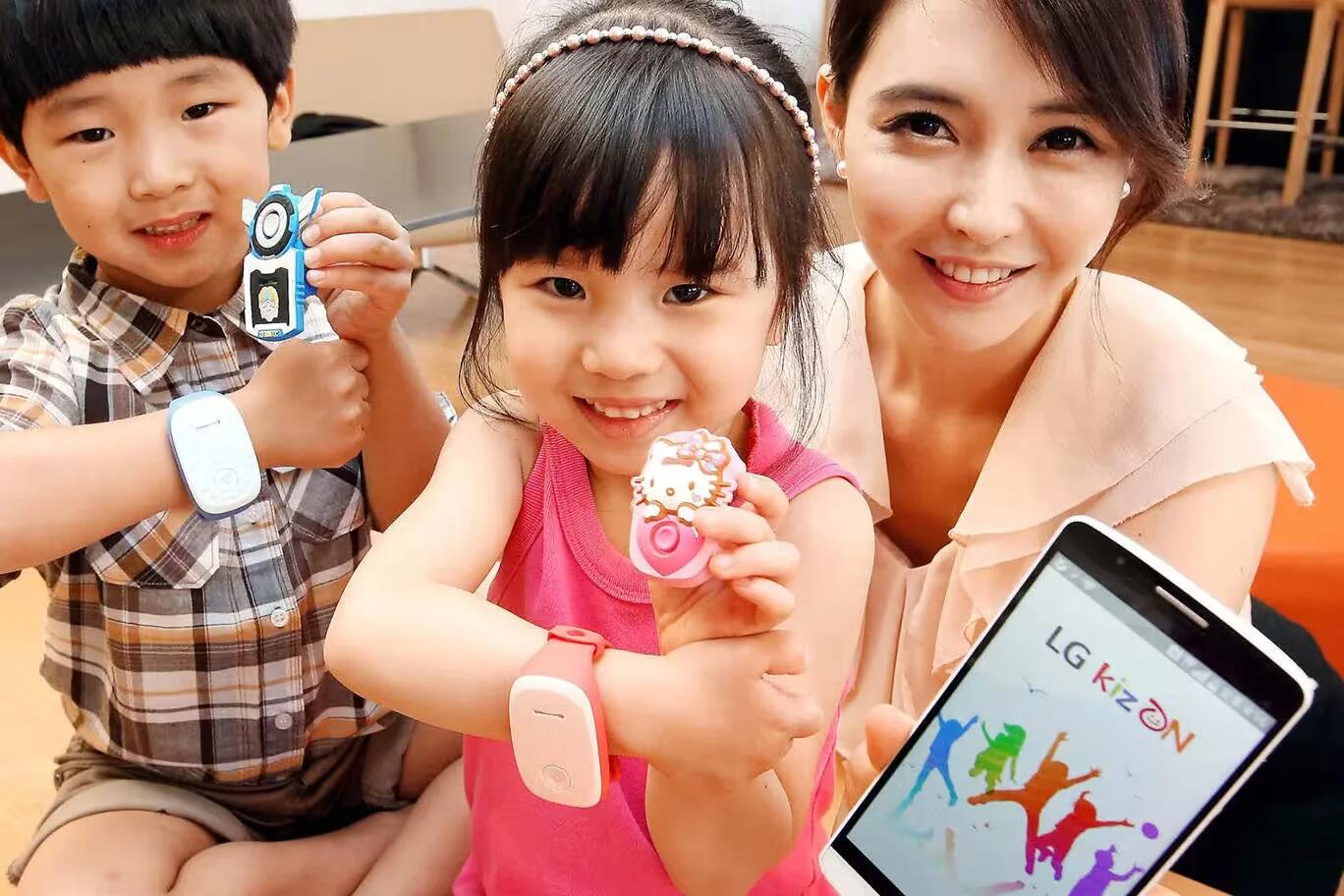 LG announced a wearable for kids back in July, dubbed the Kizon smartwatch, which allows parents to track and call their children directly. There are a few designs, including a blue and a pink one, which presumably is to aim at boys and girls respectively. The blue version was on display at the show and features a print of cars, trucks, and buses all over it while the pink version has different-shaped hearts.
We also spotted two Tobot versions, which looked really cool and clearly show how the Kizon could be transformed in the future to perhaps offer various cartoon characters or something. The blue and pink Kizon smartwatches feature a plastic body along with a rubber strap and although they are quite bulky, we liked them and can see how the primary school little'uns they are designed for would appreciate them too.
It looks like a toy but looks can be deceiving and this kiddy gadget does a lot more than originally meets the eye. The strap is closed with an almost popper like fastening and we were surprised as how secure it when we closed it, which is good as you wouldn't want it getting lost in the playground.
The face of the "watch" features a speaker and just a single button with a phone symbol on it. There is also a built-in mic within the device and a 3G connection, which if you haven't already guessed, means the Kizon allows calls.
A micro-SIM slot sits on the left hand side of the device and the Kizon smartwatch has a feature called One Step Direct Call on board that allows the parent to call and speak to the child at any point in the day, and vice versa. The child can call just a single number using the button but this number can be changed in the accompanying app so if you need to change it to the babysitter for example, you can.
There is a small LG logo situated on the rubber strap but other than that, you wouldn't know the Kizon smartwatch was an LG device, which is actually probably a good thing as it could help prevent it being stolen or anything like that if it is just perceived as a toy.
On the right hand side there is the charging port and under the hood, the LG Kizon has a 400mAh battery, which is claimed to last 36 hours. Of course, we couldn't try this out, nor the calling functionality but we like the idea of this device. When the battery gets as low as 25 per cent, it will send an alert to the parents and alerts can also be set up throughout the day to let you know where your child is at certain times using the built-in GPS. The LG Kizon smartwatch also comes Wi-Fi so real-time location information can also be delivered to parents, which if nothing else, is great for peace of mind.
According to LG's president and CEO Dr. Jong-seok Park, "KizON was developed in response to customers' opinions that technology should be used to improve the lives of all consumers and it occurred to us that children had the most to gain because they're the most vulnerable. With KizON meeting the highest standards of child-friendly products, parents and guardians can find comfort in knowing that their childrens first exposure to wearable technology is a safe one."
LG is announcing that Poland will be the first country overseas to see the launch of the KizON wristband for kids, which is slated to be this week. Other European markets are to follow after albeit without a dedicated time frame mentioned for when those markets should expect a possible launch, or when and if the KizON will launch in other regions like the U.S.
LG KizOn main specs
Memory 64MB RAM / 125MB Storage
400mAh Battery
Size 34.7*55.2*13.9mm
Blue / Pink / Green colors
Network: 2G / 3G