Knos Textbook App For iPad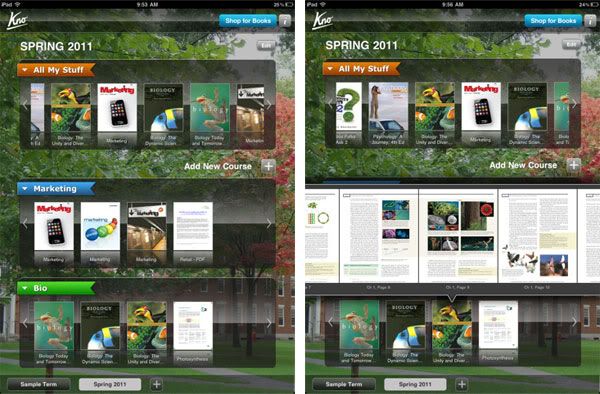 The Knos software plans, with the release of the Textbook apps are becoming reality now. It brings some 70,000 discounted educational titles to iPad. The free app lets students read and organize texts, affix annotations, and communicate with study partners, offers creative new way to pass notes in class. For more details read the press release and hit on the source link to download your free apps
Here is the source link
Here is the Press Release
KNO UNVEILS BETA TEXTBOOK APP FOR iPAD WITH WORLD'S LARGEST eTEXTBOOK CATALOG
App's Unique Features Make Learning More Engaging, Efficient and Social
Santa Clara, CA June 6, 2011 Today Kno, Inc., an education software company, unveiled a beta version of Textbooks, an innovative learning application that marries the world's largest catalog of digital textbooks with an industry leading set of features for Apple's iPad.
Kno is pushing the boundaries of how a student interacts with textbooks and learning materials. The app combines the best textbook and PDF reader technology with a Course Manager that allows students to organize documents by class and term. The beta application also integrates academic social features by allowing students to ask questions, post comments, or share their location with a study buddy. Additionally, students can annotate by using one touch highlighting and sticky notes or use the search feature to easily find topics, terms or subjects within a textbook.
"The first version of the Kno app ensures that we maintain the consistency and integrity of today's textbook, while making it more engaging, efficient and social," said Osman Rashid, CEO and Co-Founder, Kno. Inc. "This enhanced digital version gives both students and professors the confidence of knowing that the page numbers, chapters, diagrams and photographs will be exactly the same as the physical textbook, yet a lot more interactive."
Kno has partnered with the leading textbook publishers to offer the world's largest catalog of over 70,000 eTextbooks, at a 30-50% discount off the list price. All books purchased from the Kno website are backed by a 15-day Money Back Guarantee policy. The app is available for free to download at www.kno.com.
"The Kno app allows us to offer a huge catalog to meet the needs of many students today, while we continue to further develop better ways to interact with educational content," said Babur Habib, CTO and Co-Founder, Kno, Inc. "The beta version of Textbooks puts us on that path."
To kick off the app's launch, Kno is offering a free textbook for the first 200 students that participate in the Kno Early Bird Beta Program. U.S. college students participating will provide regular product feedback sessions in exchange for a full refund on a purchased textbook at the end of program. For more details go to www.facebook.com/goodtokno.