iPhone 6 Plus Teardown Reveals Internals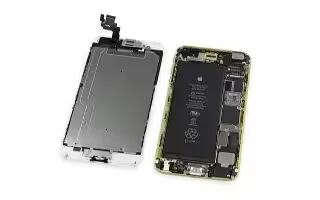 As always the guys from iFixit, tears down the new iPhone 6 Plus; the new 5.5-inch Apple's beast currently on sale. They reveals internals and pointed out the battery is twice as big as iPhone 5s and the iPhone 6 Plus runs on 1GB of RAM.
The iPhone 6 Plus got a 2915mAh battery, that was merely double than our old iPhone 5S (1560mAh), comparing with other 5.5-inch phones its not up to the mark; Galaxy Note 3 got 3200mAh, the 5.7-inch Galaxy Note 4 got a battery of 3220mAh, the 5.6-inch Galaxy Note Edge got 3000mAh of battery; even the 5.2-inch Xperia Z3 had 3100mAh battery.
They also confirmed that the iPhone 6 Plus got 1GB RAM. It doesn't compete with upcoming Android Phones by Samsung and Sony. The Galaxy Note 4 runs with 3GB of RAM, the Galaxy Note Edge got 3GB RAM as well as the Sony Xperia Z3 also had 3GB RAM as well. But there is not complaint yet from the technical reviewers yet for the iPhone 6 Plus for the slow performance.
They also revealed Apple's new A8 processor in their teardown, it reveals the F8164A3PM inscribed in the chip; the second digit '8' refers to 8 Gigabits (1GB) of RAM in Micron Catalog.
Click on source for teardown images