HTC Sensation Review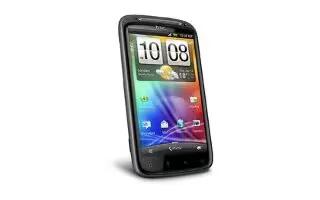 For:
qHD resolution, good ergonomics 4.3-inch phone, 1080p video recording, camera, battery.
Against:
Sense 3.0 changes are mostly cosmetic, display
The one of the most anticipated smartphone HTC Sensation sports a 1.2GHz processor and a 4.3-inch screen with qHD resolution, it is the first device with 4.3-inch screen with qHD and got a version of Android 2.3. It debuts with HTCs Watch movie streaming service and Sense 3.0 UI customizations. Hardware The smartphones with 4.3-inch screen, starting with HTCs own HD2, have always been impressive ones but they are occasionally harder to handle. The device is 6mm taller, a single millimetre wider and at 11.3mm slightly thinner than the HTC Incredible S. You can find a large volume rocker on the Sensations left side and a micro USB input a little further down. The bottom of the each phone is home to a microphone and a notch for opening up the back cover, the top features headphone jacks and power / lock buttons. In the rear it got a 8MP autofocus camera next to dual LED flash and a single loud speaker grille. Its weight of 148g is perfectly balanced. A micro SD card slot also lurks under Sensations skin, and its filled by default 8GB unit and got 1GB of onboard storage. The battery life of the HTC Sensation is 1520mAh charge, the super-LCD on board also seems to be energy consuming with restraint. The battery life is an important consideration in your spec comparing with galaxy s ii the Sensation wins a bit. The display is superlative quality, its pixel density left a little something to be desired. It boosts 960*540 resolution on Super LCD screen that fails to match the output or viewing angles of its Super AMOLED Plus competitor. There are two more advantages in the Display; its moving up to qHD resolution. First one is Gmail display more missives, the browser fit more at the content. It got 16 grid slots for your icons and widgets, having them all in higher resolution lend an extra layer of visual polish. The camera and gallery apps benefits from having more dots to display your composition and resulting images. Second one is qHD video advantage. It provides a 16:9 screen ratio, will keep your content optimized for a vast range of desktop monitors and great majority of HDTVs. In terms of output, it merits its 4.3-inch display bearing the same branding as Incredible S and Desire S, it is not up to the same standard. Viewing angles are first giveaway, as they are nowhere near as Sensation. HTC has installed a poor LCD on the Sensation, we had just refrain from calling it a super one. HTC has applied to the edges of the glass screen. They are slightly higher than the rest of the display, with tiny slope lending the whole screen a subtle concavity. The calls on Sensation, it got an extra microphone on the back of the device, which can be used to analyse external noise and nullify its effects. The earpiece is nor excellent nor poor, does it just do the job. The phone can actually reach HSPA+ speeds of 14.4 Mbps down and 5.76 Mbps up, but we didnt have the requisite network to test it out. The loud speaker also does a good job and output to headphone is pleasing. The solo speaker is not so good those aforementioned microphone holes help to leak it out of the case. If you plug-in your own set of ear blasters, you will get a nice output. SRS virtual surround sound enhancements backed into phone make a tangible difference by widening the sound stage. The smartphone that aspires to woo customers with top tier multimedia performance, getting audio right is a big deal. Camera
The HTC introducing Sensations camera software is something dubbed Instant Capture. It is not a setting that you can toggle. HTC rightly presumes that you will always want to minimize the lag between telling the phone to snap a photo and the actual capture, and it works as quickly as it says. Low light conditions slow you down as autofocus is not as fast, but the responsiveness is very impressive. There is a little preview window, shows the photo taken. You can get an enough details about taken image from it to disable full screen image review after snapping. What we can say overall is Sensation is equipped with good camera and a mighty fine imager, in order to get the best results you need a little bit hands on the controllability. Video recording is simply effortless. The 1080p can be filled second and it seems to be done with utter ease. Sensations video output seems to get no mistakes where your dual-core processor will run circles, squares, and trapezoids around the competition. The sound is recorded in stereo, good feature in Sensations multimedia hat. Software HTC developed a weird allergy to custom Android ROM installations this year and locking downs the boot loaders on its 2011 phones. The devices only option is HTCs Sense Tweaked Android 2.3.3 install. Sense 3.0 is the in-built one from HTC does almost most of the user experience interface. The Sense 3.0 tweaks have proven to be mostly superficial and theres little in the way of added functionality over and above what you can obtain on a Gingerbread-Incredible S. The lockscreen is the big improvement from its latest Sense. It now offers customizable shortcuts; you can get your current weather, or stock updates, a floating array of your pictures and drag them into the closer look. The new Sense UI is designed to make a good impression, but the scratch below the surface and you will find little substance. HTC explicitly promised to improve its input prediction algorithms; we are not struck by any great algorithms over there. The companys other Gingerbread devices makes the Sensation in another succession on the phones The Performance of the phone is good enough. The HTCs Watch, the newly launched online movie store is available on the Sensation. It works on progressive download basis that is practically indiscernible from streaming. The 16:9 screen ratio and processing power within the phone pair up to deliver a supreme movie-watching experience. Quadrants 3D graphics tests are done at native resolution, 35 percent more intensive workload for the qHD resolution. The full power of Adreno 220 GPU needs some intensive new games to push it to limits. For:
qHD resolution, good ergonomics 4.3-inch phone, 1080p video recording, camera, battery.
Against:
Sense 3.0 changes are mostly cosmetic, display
Conclusion
Its an extremely good device, it is indeed a dual-core speed like Galaxy S II, HTC doesnt exhibit same level of UI responsiveness and saddled with bootloader that prevents users from improving things themselves. The main issue is the Sense, the new graphics and improved lock screen utility cannot hide the fact. The style and look of Sensation is as same the companys establishments. Excellent ergonomics and battery efficiency are good. The qHD resolution is making the Sensation formidable phone.