How To View Received Messages On Samsung Galaxy S4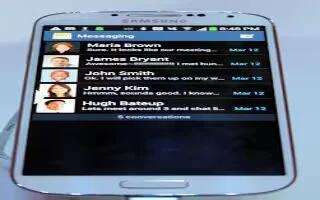 Learn how to view the received messages on your Samsung Galaxy S4. When you receive a new message, the new message icon will appear at the top of your screen.
Open the Notification Bar and select the message.
or
From the main Home screen, tap Messaging then tap the new message to view it. The selected message appears in the display.
To play a multimedia message, tap Play icon.
To pause playback of the multimedia message, tap Pause icon.
To scroll through the message (if additional text pages have been added), touch the screen and in a single motion, scroll up or down the page.