How To Use WatchON Remote - Samsung Gear 2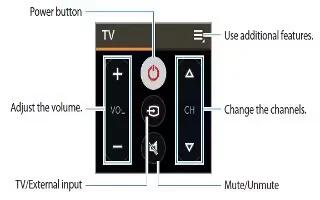 Learn how to use WatchON Remote on your Samsung Gear 2. Use this application to operate the Gear 2 as a remote control for other devices with an infrared receiver.
You can use this feature with various devices, such as TVs and set-top boxes.
From the Home screen, tap WatchON Remote.
Note: The remote-control screen may vary depending on the device being controlled.
Select a device the Gear 2 will remotely control, and then follow the displayed instructions to complete the setup.
Note: Ensure that the devices infrared port is facing the device.
Scroll left on the remote-control screen to access the numeric keypad.