How To Use VoiceOver With Safari - iPhone 5S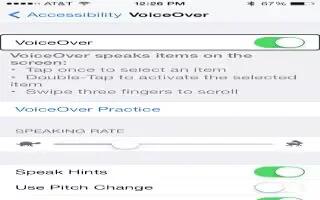 Learn how to use VoiceOver With Safari on your iPhone 5s.
Use VoiceOver with Safari
Search the web. Select the search field, enter your search, then swipe right or left to move down or up the list of suggested search phrases. Then double-tap the screen to search the web using the selected phrase.
Skip to the next page element of a particular type. Set the rotor to the element type, then swipe up or down.
Set the rotor options for web browsing. Go to Settings > General > Accessibility > VoiceOver > Rotor. Tap to select or deselect options, or drag List icon up or down to reposition an item.
Skip images while navigating. Go to Settings > General > Accessibility > VoiceOver > Navigate Images. You can choose to skip all images or only those without descriptions.
Reduce page clutter for easier reading and navigation. Select the Reader item in the Safari address field (not available for all pages).
If you pair an Apple Wireless Keyboard with iPhone, you can use single-key Quick Nav commands to navigate webpages.