How To Use VoiceOver - iPad Mini 2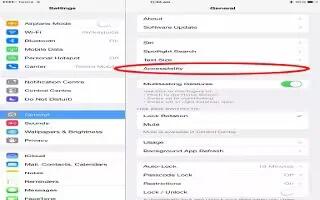 Learn how to use Voiceover on your iPad Mini 2. VoiceOver describes aloud what appears onscreen, so you can use iPad without seeing it.
Voice Over tells you about each item on the screen as you select it. The VoiceOver cursor (a rectangle) encloses the item and Voice Over speaks its name or describes it.

Touch the screen or drag your finger over it to hear the items on the screen. When you select text, Voice Over reads the text. If you turn on Speak Hints, Voice Over may tell you the name of the item and provide instructions for example, double-tap to open. To interact with items, such as buttons and links.

When you go to a new screen, VoiceOver plays a sound, then selects and speaks the first item on the screen (typically in the upper-left corner). Voice Over also lets you know when the display changes to landscape or portrait orientation, and when the screen becomes dimmed or locked.
Note: VoiceOver speaks in the language specified in International settings, which may be influenced by the Region Format setting in Settings > General > International. Voice Over is available in many languages, but not all.