How To Use Voice Recorder - Samsung Galaxy Mega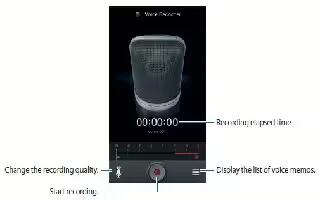 Learn how to use voice recorder on your Smsung Galaxy Mega. The Voice Recorder allows you to record an audio file up to one minute long and then immediately share it using Wi-Fi Direct, Messaging, Gmail, or via Bluetooth. Recording time will vary based on the available memory within the phone.
From the Home screen, tap App > Voice Recorder.

To start recording, tap Record and speak into the microphone.

During the recording process you can either tap Stop to stop and save the recording or Pause to temporarily halt the recording. After pausing, tap Record to resume recording. Once the audio recording has stopped, the message is automatically saved. Tap Cancel to cancel the recording without saving.

Tap List to display a list of all your voice recordings. Tap a voice recording to play it.

On the bottom left corner of the display, is the recording quality icon. Tap to toggle between Normal Voice and High Voice quality recording.

Press Menu for additional options.