How To Use Videos - Samsung Galaxy S4 Active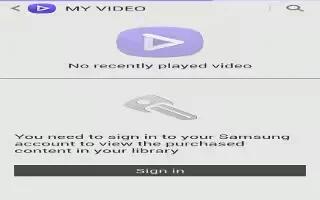 Learn how to use videos on your Samsung Galaxy S4 Active. The Video application plays video files stored on your phone or microSD card.
Tap Apps > Video icon. All videos that you have on your phone and memory card will be displayed.

Tap the video that you want to play. The video will begin to play. The following video controls are available:
Pause icon: Pause the video.

Play icon: Start the video after being paused.

Rewind icon: Press and hold to rewind the video. Tap to go to previous video.

Fast-forward icon: Press and hold to fast-forward the video. Tap to go to next video.

Volume icon: Volume control.

PIP icon: PIP (Picture In Picture) view. The video will be played in a small window so you can use your phone for other purposes while watching the video. Double-tap screen to return to previous size.

Original View icon: Original size view. The video will be played in its original size.

Full-screen Ratio View icon: Full-screen in ratio view. The video is enlarged as much as possible without becoming distorted.

Full-screen view icon:Full-screen view. The entire screen is used, which may cause some minor distortion.

Streams icon: Streams the video to another device via Samsung Link.
Note: The screen view icons are a three-way toggle. The icon that is displayed, is the mode that will appear after the icon is tapped. For more information on downloading videos for your phone, see Samsung Hub".