How To Use Video Camera - Samsung Galaxy S4 Active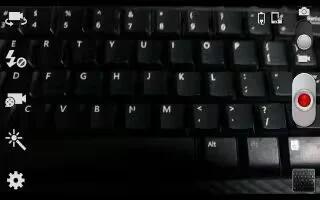 Learn how to use video camera on your Samsung Galaxy S4 Active. In addition to taking photos, the camera also doubles as a camcorder that also allows you to record, view, and send videos.
Note: The camera may not be able to properly record videos to a memory card with a slow transfer speed.
Shooting Video
Note: When shooting video in direct sunlight or in bright conditions, it is recommended that you provide your subject with sufficient light by having the light source behind you.
From the main Home screen, tap Camera icon to activate the camera mode. .

Using the cameras main display screen as a viewfinder, adjust the image by aiming the camcorder at the subject.

Before you take a video, use the Volume control buttons to zoom in or out. You can magnify the video up to x4 (400 percent).

Tap the Video key to begin shooting video. The red light will blink while recording.

You can tap the screen to move the focus to the area you touch target area.

To capture an image from the video while recording, tap Camera icon. This feature is not available while the anti-shake feature is activated.

Tap the Pause key to stop the recording and save the video file to your Camera folder.

Tap the Stop key ( ) to stop the recording and save the video file to your Camera folder.

Once the file has been saved, tap the image viewer, then tap Play icon to play your video.

Press Back key to return to the viewer.
Viewing your Videos
After you take a video, you can access various options from the Image Viewer. The Image Viewer uses your Gallery and the Video player. For more information, refer to Gallery. Also, seeVideos.