How To Use Reminders On iPhone 5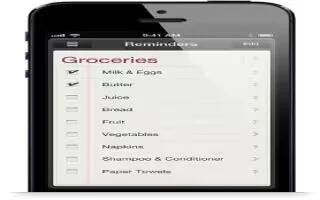 Learn how to use Reminders apps on your iPhone 5. Reminders lets you keep track of all the things you need to do. Continue reading on how to use it.
See reminder details: Tap a reminder. You can:

Change or delete it
Set a due date
Set a priority
Add notes
Move it to a different list
Reminders can alert you when you arrive at or leave a location.
Add a location alert: While entering a reminder, tap >, then turn on Remind Me At a Location.
To use a different location, tap your current location. Locations in the list include addresses from your personal info card in Contacts, such as the home and work addresses youve added. To use a different address, tap Enter an Address.
Note: Location reminders are not available on iPhone 3GS. You cannot set locations for reminders in Microsoft Exchange and Outlook accounts.
Search your reminders: Tap List icon to see the search field, or search from the Home screen. Reminders are searched by name. You can also use Siri to find or add reminders.
Turn off reminder notifications: Go to Settings > Notifications.
Set the tone played for notifications: Go to Settings > Sounds.
Keep your reminders up to date on other devices: Go to Settings > iCloud, then turn on Reminders. To keep up to date with Reminders on OS X Mountain Lion, turn on iCloud on your Mac, too. Some other types of accounts, such as Exchange, also support Reminders. Go to Settings > Mail, Contacts, Calendars and turn on Reminders for the accounts you want to use.
Set a default list for new reminders: Go to Settings > Mail, Contacts, Calendars, then under Reminders, tap Default List.
Note
This article will work on all iPhones using iOS 6; including iPhone 3GS, iPhone 4, iPhone 4S, and iPhone 5.