How To Use QuickTranslator - LG G Pad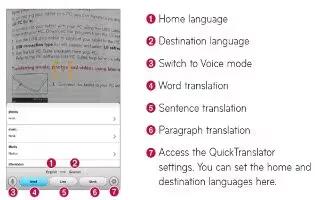 Learn how to use QuickTranslator on your LG G pad. Simply aim the camera of your smart tablet at the foreign sentence you want to understand. You can get the real-time translation anywhere and anytime. You can buy additional dictionaries for offline translation from the Google Play Store.
From the Home screen, tap Apps > Apps tab > QuickTranslator icon.
Touch , Word, Line or Block.
Touch Settings icon and set the home and destination languages.
Hold the tablet toward the subject you want to translate for a few seconds.
Note: Only one dictionary is provided free of charge. Additional dictionaries must be purchased. Please select the dictionary you would like to install as your complimentary dictionary.
Note: There may be a difference in the rate of recognization depending on the size, font, color, brightness and angle of the letters that need to be translated.