How To Use Power Saving Mode - Samsung Galaxy S4 Active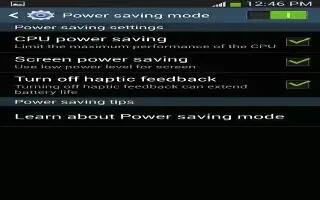 Learn how to use power saving mode on your Samsung Galaxy S4 Active. Power saver mode allows you to manage your phone to conserve power.
From the Home screen, tap Apps icon > Settings > More icon > Power saver mode.

Tap the OFF / ON icon next to Power saving mode to turn Power saving mode on.

Tap the following options to create a checkmark and conserve power:
CPU power saving: allows you to limit the maximum performance of the CPU.

Screen power saving: allows you to lower the screen power level.

Turn off haptic feedback: allows you to turn off vibration when you tap or touch the screen.

Tap Learn about Power saver mode to learn about various ways to conserve battery power.