How To Use Play Movies&TV On Samsung Galaxy Note 2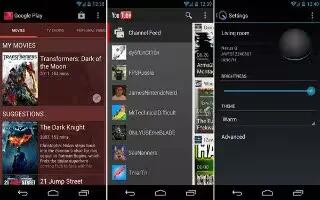 This application allows you to connect to the Play Store, download a movie, and then watch it instantly on Samsung Galaxy Note 2. Choose from thousands of movies, including new releases and HD titles in the Play Store and stream them instantly on your Android device.
Movies, previously rented via the Play Store are automatically added to your My Movies library across your devices. Learn more about Google Play Movies at: http://play.google.com/about/movies.
From the Home screen, tap Apps > Play Movies & TV icon.
Log on to your Google account if you have not already done so. A list of videos sorted on the SD card displays in the Video list.
Following the on-screen instructions for renting and viewing movies.

Tap the MOVIES tab to view movies you have rented.
Tap the TV SHOWS tab to view shows you have rented.
Tap the PERSONAL VIDEOS tab to view movies you have on your device or memory card.
For more information on using the Picture-in-Picture feature for video playback, see How to use Picture-In-Picture.