How To Use PC Companion - Sony Xperia Z1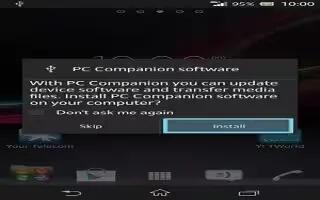 Learn how to use PC companion on your Sony Xperia Z1. PC Companion is a computer application that gives you access to additional features and services which help you transfer music, video and pictures to and from your device. You can also use PC Companion to update your device and get the latest software version available. The installation files for PC Companion are saved on your device and the installation is launched from the device when you connect it to a computer via USB cable. You need an internet connected computer running one of the following operating systems to use the PC Companion application:
Microsoft Windows 7
Microsoft Windows 8
Microsoft Windows Vista
Microsoft Windows XP (Service Pack 3 or higher)
To install PC Companion on a PC
Make sure the Install software checkbox under Settings > Xperia Connectivity > USB Connectivity is marked.
Connect your device to a PC using a USB cable.
Device: Tap Install.
Computer: The PC Companion installer starts automatically after a few seconds. Follow the on-screen instructions to install PC-Companion.
To start PC Companion
Make sure that PC-Companion is installed on your PC.
Open the PC-Companion application on the PC, then click Start to open one of the features that you want to use.