How To Use Office Apps - Nokia Lumia 925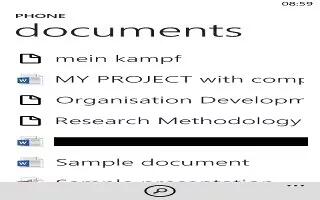 Learn how to use office apps on your Nokia Lumia 1020.Your phone has the mobile versions of Microsoft Office apps.
You can:
Review your notes and documents, make last-minute changes, or create new documents

View and edit PowerPoint presentations

Create, view, and edit Microsoft Excel workbooks

Save your Office files to SkyDrive, and pick up where you left off when you're back at your computer

Access the Office 365 service
With SharePoint Workspace Mobile, you can open, edit, and save Microsoft Office documents that are on SharePoint 2010 or SharePoint Online sites.
For more info, see the Office section in this user guide.
For more info on Office 365, see the video at www.youtube.com/watch?v=2QxiYmAerpw (in English only).