How To Use NFC - Nokia Lumia 2520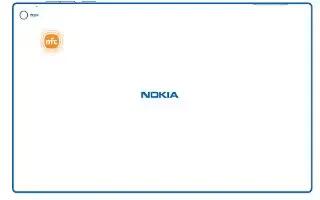 Learn how to use NFC on your Nokia Lumia 2520. Explore the world around you. Tap accessories to connect to them, or tap tags to open websites. Near Field Communication (NFC) makes connecting easy and fun. With NFC, you can:
Connect to compatible Bluetooth accessories that support NFC, such as a headset or a wireless speakerphone

Send things, such as contacts or your own photos, to your friend's tablet, phone, or PC running on Windows 8, with Tap and send

Tap tags to get more content for your tablet, or to access online services

The NFC area is on the back of your tablet, near the camera. Tap other tablets, phones, accessories, or tags with the NFC area. Before using NFC, make sure the screen is unlocked.
Switch NFC on
With NFC, you can connect to other compatible tablets, phones, and accessories just by tapping them with your tablet.
Swipe in from the right of the screen, and tap Settings icon > Change PC settings > Network > Airplane mode.

Switch NFC to On.
Connect to a Bluetooth accessory with NFC
Why not listen to music using wireless speakers or a wireless headset? You only need to tap the compatible accessory with your tablet.
Make sure NFC is switched on.

Tap the NFC area of the accessory with the NFC area of your tablet.

Accessories are sold separately. The availability of accessories varies by region. Disconnect the accessory
Tap the NFC area of the accessory again.
Read NFC tags
NFC tags can contain info, such as a web address, phone number, or business card. The info you want is just a tap away.
Tap a tag with the NFC area of your tablet.