How To Use Mobile Hotspot - Samsung Galaxy S4 Active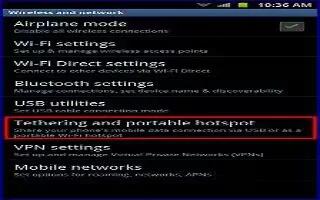 Learn how to use mobile hotspot on your Samsung Galaxy S4 Active. This option allows you to share your phoness mobile data connection via USB or as a portable Wi-Fi hotspot.
Mobile Hotspot
Note: To enable Mobile Hotspot on your phone, dial 611 to set up the service.
From the Home screen, tap Apps icon > Mobile Hotspot icon.
or
From the Home screen, tap Apps icon > Settings > Connections icon > More networks > Tethering and portable hotspots > Mobile Hotspot.
Turn Mobile Hotspot on by tapping the slider so that it changes to the ON position. The Mobile Hotspot icon is displayed at the top of your screen.
Tap Configure at the bottom of the screen.

Enter or edit the Network SSID, Hide my device, Security setting, and Password.

Tap Show password and Show advanced options to see them displayed.

Tap Save.

Press Menu key for the following option:
Timeout settings: allows you to set the time your device will be available as a portable Wi-Fi hotspot.
Connecting to Portable Wi-Fi hotspot from other devices
Activate Wi-Fi on the device that wants to connect to your phone.

Find GALAXY_S4_Active_XXXX in the Wi-Fi network list and connect to it. XXXX are four randomly generated digits that will appear when you set up a Portable Wi-Fi hotspot on your device.

The connected device can now use internet through your Portable Wi-Fi hotspot. e other device.
Note: Activating Wi-Fi and connecting to your phone will be different depending on the type of the other device.