How To Use Mobile Hotspot - LG G2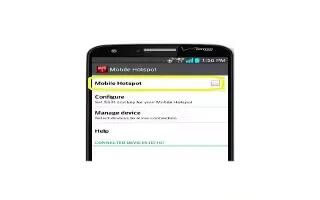 Learn how to use Mobile Hotspot on your LG G2. Allows you to configure mobile networks, tethering, and VPNs (Basic VPN, LG VPN).
Mobile Hotspot LG G2
Mobile Hotspot
You can also use your smartphone to provide a mobile broadband connection for up to 8 other devices. Create a hot spot and share your connection.
To create a portable hot spot, from the Home screen, tap the Menu Key > All settings > Networks tab > Tethering & networks > Mobile Hotspot.
Then tap the Mobile Hotspot switch ON/OFF to activate the feature.
Tap Set up Mobile Hotspot to change the SSID, password, security type, and other hot spot options.
Note
Mobile Hot spots requires an appropriate DataPro data plan. Devices connected to your Mobile Hot spot use data from your DataPro plan. Plans are not unlimited and significant charges may be incurred if the included data allowance is exceeded. Performance may vary depending on the number of devices connected and other factors. If you do not use a password, others will be able to use your Mobile Hot spot connection.