How To Use LED Indicator - Samsung Galaxy Mega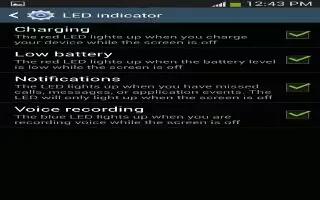 Learn how to use LED indicator on your Samsung Galaxy Mega.This option allows you to turn on your LED lights for charging, missed events, and incoming notifications. The light will turn on by default unless you turn them off.
From the Home screen, tap App > Settings > My device > LED indicator.

Tap the following LED indicator options to turn them on or off:
Charging: LED lights up when the device is connected to the charger.

Low battery: LED lights up when the battery level is low.

Notifications: LED lights up when you have missed calls, messages, or application events.

Voice recording: LED lights up when you are recording voice. The LED only lights up when the screen is off.