How To Use Google Play Music - Samsung Galaxy S4 Active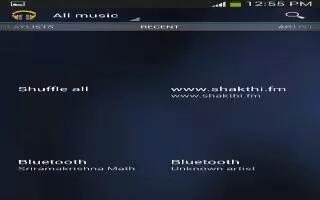 Learn how to use Google Play Music on your Samsung Galaxy S4 Active. With Google Play Music, you can play music that you have added to your music file as well as any music you copied from your PC. While offline, you can listen to music you have copied from your PC.
From the Home screen, tap Apps > Play Music icon. All music on your device and external SD card is displayed including Music folders that may contain multiple songs.

Tap a song to start playback.

From the main Play Music screen, you can tap any of the following tabs for a more detailed listing of songs: Playlists, Recent, Artists, Albums, Songs, and Genres.

Tap Menu key for the following options:
Settings: allows you to view Open source licenses and the music version for the Play Music application.