How To Use Gmail - HTC One M8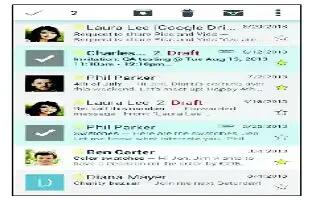 Learn how to use Gmail on your HTC One M8. All your received email messages are delivered to your Inbox.
Open the Gmail app.
Do any of the following from your Inbox.

Tap an email message preview to read, forward, or reply to the message.
Open the slideout menu to change an inbox category such as Primary, switch to other Gmail accounts, or display by different email labels.
Tap the sender image or letter tile to select one or more messages or conversations. You can then tap the onscreen buttons at the top bar to archive, delete, or mark the elected messages or conversations.
Sending an email message in Gmail
In the inbox of the Gmail account you want to use, tap (or tap Menu icon > Compose).
Fill in one or more recipients.
Note
Want to loop in more recipients in a carbon copy (Cc) or blind carbon copy (Bcc) of the email message? Tap Menu icon > Add Cc/Bcc.
Enter the email subject, and then compose your message.
If you want to attach a photo, video or file, tap Menu icon > Attach file, tap the attachment source, and then select the files you want.
TapSendicon to send.
Replying to or forwarding email messages in Gmail
In the Gmail inbox, tap the email message or conversation.
To reply to the sender, tap Reply icon. Or, tap Menu icon and choose whether to Reply all or Forward.
Do one of the following:
If you're replying to the sender or you selected Reply all, enter your reply message.
If you selected Forward, specify the message recipients.
Note
Tap Respond inline if you want to interleave your new message with the received email. But this removes any attachments or formatting in the original email message.