How To Use Fingerprint Scanner - Samsung Galaxy S5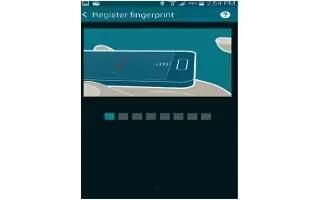 Learn how to use Fingerprint Scanner on your Samsung Galaxy S5. You can use the Finger Scanner feature as an alternative security method for certain actions and as your lockscreen.
Note: In order for fingerprint recognition to function, your fingerprint information will be stored in your phone.
Registering your fingerprints
From the main Settings screen, tap Finger Scanner icon.
If you did not register your fingerprints when you first set up your phone, tap Fingerprint manager.
Read the Disclaimer at tap OK.
Tap on the finger or thumb that you would like to register.
Swipe your finger over the Home key from the first knuckle to the tip of the finger. An animated drawing shows you exactly how.
Continue to swipe your finger until the progress bar shows 100%.
Enter a password to use as an alternative in case your fingerprint is not read correctly.
Confirm the password and tap OK.
Your fingerprint is now registered. Tap Back Key to return to the fingerprint screen.
Under the Settings heading, the following options are available:
Fingerprint manager: allows you to register more fingerpints or deregister the fingerprints that are on your phone.
Change alternative password: allows you to change your alternative password which is used in case your fingerprint is not recognized.
Under the Features heading the following options are available:
Screen lock: allows you to sign into websites which support the remember passwords feature. Follow the onscreen instructions.
Verify Samsung account: allows you to use your fingerpint instead of your password when signing onto your Samsung account. Follow the onscreen instructions.
Pay with PayPal: allows you to link your PayPay account to your phone to make quick and secure payments using any of your registered fingerprints.