How To Use Display Settings - Samsung Galaxy Tab Pro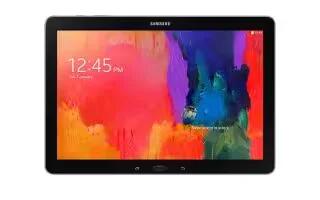 Learn how to use display settings on your Samsung Galaxy Tab Pro. Use the Display settings to configure the way your devices screen operates.
From the Settings screen, touch Device tab > Display. The following options are available:
Brightness: Touch and drag the slider to set the brightness or touch Automatic brightness.
Screen timeout: Set the length of delay between the last key press or screen touch and the automatic screen timeout (dim and lock).
Touch key light duration: Set the amount of time the touch keys remain lit.
Screen mode: Select a screen mode from the following:

Adapt display: Use this mode for optimizing the display according to the display settings.
Dynamic: Use this mode to make the display tone more vivid.
Standard: Use this mode for normal surroundings.Movie: Use this mode for dim surroundings, such as in a dark room.
Reading mode: Use Reading mode to optimize the screen for reading from selected applications. Touch the OFF/ON button to turn Reading mode ON icon. Touch Reading mode > Edit o add more applications.
Daydream: Set the device to launch a screen saver when your device is connected to a desktop dock or charging. Touch the OFF/ON button to turn Daydream ON icon. Touch Daydream for options.
Show battery percentage: Set the device to display the remaining battery life on the Status Bar.
Edit after screen capture: Go to the edit screen after taking a screen capture.
Note

This guide will work on all Samsung Galaxy Tab Pros; including Samsung Galaxy Tab Pro 8.4, Samsung Galaxy Tab Pro 10.1 and Samsung Galaxy Tab Pro 12.2.