How To Use Desk Clock On Samsung Galaxy S4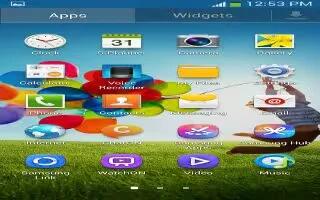 Learn how to use Desk Clock on your Samsung Galaxy S4. You can use the Desk clock when you have a desk dock and you want your phone to display the time, day, date, location, and weather conditions when it is docked.
From the Home screen, tap Apps > Clock > Desk clock. The default Desk clock is displayed.
Tap Full mode icon to display the Desk clock in full-screen mode.
To make changes, tap Menu key > Settings.
The following options are displayed while in full-screen mode:
Hide status bar: when this is checked, the status bar is hidden from view.
Wallpaper: tap to select Desk clock wallpaper from Default, Gallery, or Same as home screen.
Calendar: when this is checked, the calendar is displayed. Tap to uncheck.
Weather: when this is activated, the location, temperature, and weather condition is displayed. Touch and slide the slider to the right to turn it on.
Dock: allows you to set your Dock settings such as Dock sound, Audio output mode, Desk home screen display, Automatic unlock, and Audio output.