How To Use Control Center - iPhone 5C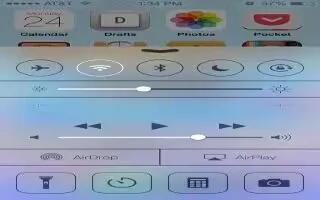 Learn how to use control center on your iPhone 5c. Control-Center gives you instant access to the camera, flashlight, AirDrop (iPhone 5 or later),AirPlay, timer, audio playback controls, and many other handy features.
Open Control Center. Swipe up from the bottom edge of any screen (even the Lock screen).
You can adjust the brightness, lock the screen in portrait orientation, turn wireless services on or off, and turn on AirDrop to exchange photos and other items with nearby iOS 7 devices that support AirPlay.
Open the currently playing audio app. Tap the song title.
Close Control-Center. Swipe down, tap the top or the screen, or press the Home button.