How To Use Clock App - iPhone 5C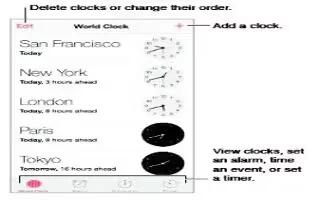 Learn how to use clock app on Your iPhone 5c. Clock at a glance
The first clock displays the time based on your location when you set up iPhone. Add other clocks to show the time in other major cities and time zones.
Alarms and timers
Want iPhone to wake you? Tap Alarm, then tap + icon. Set your wake-up time and other options, then give the alarm a name (like Soccer practice). No wasting time! You can also use the stopwatch to keep time, record lap times, or set a timer to alert you when times up. If youre boiling an egg, just tell Siri to Set the timer for 3 minutes.
Want to fall asleep to music or a podcast? Tap Timer, then tap When Timer Ends and choose Stop Playing at the bottom.
Get quick access to clock features. Swipe up from the bottom edge of the screen to open Control Center, then tap clock icon . You can access alarms in Control Center even when iPhone is locked.