How To Use Calling Options On iPhone 5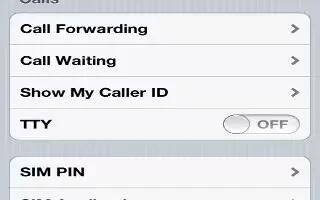 From a contacts Info screen, a quick tap lets you make a phone call, create an email message, find the contacts location, and more. Continue reading on using the calling options.
Call forwarding, call waiting, and caller ID on iPhone 5
The following information applies only to GSM networks. For CDMA networks, contact your carrier for information about enabling and using these features. See support.apple.com/kb/HT4515.
Turn call forwarding on or off: Go to Settings > Phone > Call Forwarding. The Call Forwarding icon appears in the status bar when call forwarding is on. You must be in range of the cellular network when you set iPhone to forward calls, or calls wont be forwarded. FaceTime calls are not forwarded.
Turn call waiting on or off: Go to Settings > Phone > Call Waiting. If youre on a call and call waiting is turned off, incoming calls go directly to voicemail.
Turn caller ID on or off: Go to Settings > Phone > Show My Caller ID.
Note: For FaceTime calls, your phone number is displayed even if caller ID is turned off.
Ringtones, Ring/Silent switch, and vibrate on iPhone 5
iPhone comes with ringtones that sound for incoming calls, Clock alarms, and the Clock timer. You can also purchase ringtones from songs in iTunes.
Set the default ringtone: Go to Settings > Sounds > Ringtone.
Turn the ringer on or off: Flip the switch on the side of iPhone.
Important: Clock alarms still sound even if you set the Ring/Silent switch to silent.
Turn vibrate on or off: Go to Settings > Sounds.
Assign a different ringtone for a contact: In Contacts, choose a contact, tap edit, then tap Ringtone and choose a ringtone.
International calls on iPhone 5
For information about making international calls from your home area, including rates and other charges that may apply, contact your carrier or go to your carriers website.
When traveling abroad, you may be able to use iPhone to make calls, send and receive text messages, and use apps that access the Internet, depending on available networks.
Enable international roaming: Contact your carrier for information about availability and fees.
Important: Voice, text message, and data roaming charges may apply. To avoid charges when roaming, turn off Voice Roaming and Data Roaming.
If you have an iPhone 4S or later thats been activated to work on a CDMA network, you may be able to roam on GSM networks if the phone has a SIM card installed. When roaming on a GSM network, iPhone has access to GSM network features. Charges may apply. Contact your carrier for more information.
Set network options: Go to Settings > General > Cellular to:

Turn data roaming on or off.
Turn cellular data on or off.
Turn voice roaming on or off (CDMA).
Use GSM networks abroad (CDMA).

Turn off cellular services: Go to Settings, turn on Airplane Mode, then tap Wi-Fi and turn Wi-Fi on. Incoming phone calls are sent to voicemail. To resume cellular service, turn Airplane Mode off.
Automatically add the prefix or country code for calls to the U.S.: (GSM) Go to Settings > Phone, then turn on Dial Assist. This lets you use contacts and favorites to make calls while abroad.
Choose a carrier: Go to Settings > Carrier. This option is available only when youre traveling outside your service providers network, and for carriers that have roaming agreements with your provider.
Get voicemail when visual voicemail isnt available: Dial your own number (with CDMA, add # after your number), or touch and hold 1 on the numeric keypad.
Setting options for Phone
Go to Settings > Phone to:
See the phone number for your iPhone
Change the default text message replies for incoming calls
Turn call forwarding, call waiting, and caller ID on or off (GSM)
Turn TTY on or off
Change your voicemail password (GSM)
Require a PIN to unlock your SIM when you turn iPhone on (required by some carriers)
Go to Settings > FaceTime to:
Turn FaceTime on or off
Use your Apple ID for FaceTime
Add an email address for FaceTime
Turn cellular data on or off
Go to Settings > Sounds to:
Set ringtones and volume
Set vibration options
Set the sound for new voicemail
Note
This article will work on all iPhones using iOS 6; including iPhone 3GS, iPhone 4, iPhone 4S, and iPhone 5.