How To Use Call Waiting - Nokia Lumia 1520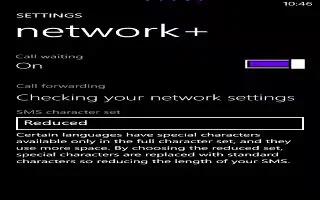 Learn how to use call waiting on your Nokia Lumia 1520. Get another call while you're already in one? Call waiting helps you answer or hold one of the calls.
Tap Settings > network+, and switch Call waiting to On.
To hold the first call and answer the new call, tap ANSWER.

To end the first call and answer the new one, tap end call + answer.

To ignore the new call, tap ignore.
Hold one call and make another
Tap HOLD, ADD CALL, and call the people you want.
Switch between calls
Tap TAP TO SWAP on the top of the screen.
Use Skype to make calls or send messages
You can use your phone to make Skype-to-Skype calls or send Skype-to-Skype instant messages. With Skype global rates, you can also call landlines or other mobile phones. You can also make video calls and pay as you go with your credit card, or get a monthly subscription for the best rates.
To download Skype, tap Store icon or go to store.nokia.com.
For more info on Skype-to-Skype calls and IM, see the video atYouTube (in English only).
Reply to a call by a text message
Can't answer a call in voice? You can reply to the caller by a text message.
When someone calls you, tap TEXT REPLY.

Tap type a message..., and write your message.
You can only reply by a text message to calls from the contacts saved in your phone.
Switch text reply on or off
Tap Call icon > . . . > settings, and switch Text reply to On or Off.
Edit a pre-written text message
On the start screen, tap Call icon > . . . > settings > edit replies, and edit the reply you want.
Call your voice mailbox
If you've forwarded incoming calls to your voice mailbox, you can call it and listen to the messages your friends have left.
On the start screen, tap Call icon > Voice Message icon.

If asked, type in the voicemail password.

You can listen or reply to voicemail messages, delete them, or record a greeting message. For the availability of the voice mailbox service, and for info on setting up how long before calls are forwarded, contact your network service provider.