How To Use Browser On Sony Xperia Z3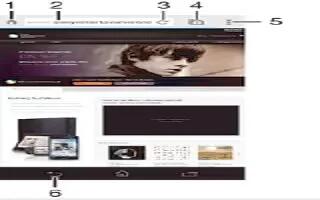 Learn how to use browser on your Sony Xperia Z3. The Google Chrome web browser for Android devices comes pre-installed in most markets. Go to Google Chrome and click the "Chrome for Mobile" link to get more detailed information about how to use this web browser.
To browse with Google Chrome
From your Home screen, tap Apps icon.
Find and tap Google Chrome icon.
If you are using Google Chrome for the first time, select to either sign in to a Google account or browse with Google Chrome anonymously.
Enter a search term or web address in the search and address field, then tap Go on the keyboard. 1 Go to the homepage
2 Search and address field
3 Refresh the page
4 Access browser tabs
5 View help and options
6 Go back a page in the browser history
Note: Refer here to know more on Sony Xperia Z3.