How To Use Apple Wireless Keyboard On iPad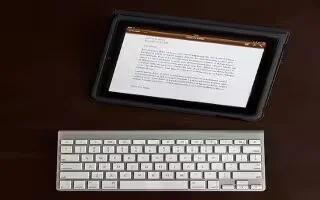 You can use an additional keyboard for an iPad instead of using the onscreen keyboard. Follow the simple steps below.
The Apple Wireless Keyboard connects using Bluetooth, so you must pair the keyboard with iPad. Once the keyboard is paired with iPad, it connects whenever the keyboard is within range (up to 33 feet or 10 meters). You can tell that the keyboard is connected if the onscreen keyboard doesnt appear when you tap in a text field.
Switch the language when using a hardware keyboard: Hold down the Command key and tap the space bar to display a list of available languages. Tap the space bar again to choose a language.
Disconnect a wireless keyboard from iPad: Hold down the power button on the keyboard until the green light goes off. iPad disconnects the keyboard when its out of range.
Unpair a wireless keyboard from iPad: In the menu Settings, go to General, Bluetooth, and tap next to the keyboard name, and then tap Forget this Device.
Note
This will work on all iPads; including iPad3, new iPad, iPad2, and original iPad.