How To Use Airplane Mode On Samsung Galaxy S4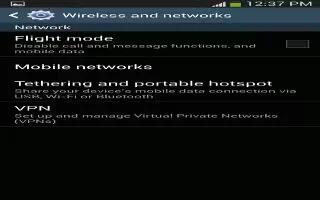 Learn how to use the Airplane mode on your Samsung Galaxy S4. Airplane mode allows you to use many of your phones features, such as Camera, Games, and more, when you are in an airplane or in any other area where making or receiving calls or data is prohibited.
Note: When your phone is in Airplane Mode, it cannot send or receive any calls or access online information or applications.
From the Home screen, tap Apps > Settings > Connections tab > More networks.
Tap the Airplane mode checkbox to create a checkmark and activate the feature.
At the Enable airplane mode prompt, tap OK.
The Airplane mode icon is displayed at the top of your screen.